Have you started this year with a resolution to lead a healthier lifestyle or to lose weight? Interestingly, this good intention is not difficult to achieve with discipline but many people can't stick to their weight loss goals after a few months.
It could be because they started a plan that is too general or too difficult for them to achieve. First, we want you to know that it is okay to love your body and still want to lose some extra pounds.
And when it comes to staying healthy and knowing the milestone on your weight loss journey, relying on weighing scales is extremely important.
Still, there are plenty of fitness scales in the market. What kind of weighing scale do you exactly need? Should you also use it if you want to build muscle?
After research and testing, one of the best body analysis scales that we can recommend to you is the Bally Total Fitness digital bathroom scale.
If you want to know more about the Bally Total Fitness Scale, keep on reading. ExpertFitness.com is committed to delivering you an in-depth review of Bally's Total Fitness Body Analysis Scale and help you decide whether it's worth upgrading your ordinary bathroom scale to this product or not.
TLDR: Review of the Bally Total Fitness Digital Bathroom Scale
Product Description
The Bally Total Fitness Body Analysis Scale is not your ordinary glass weighing scale. It is a step-on technology that has a tempered glass platform and has high-precision sensors, which help read the precise weight of the users.
With a 2.6" LCD Display built-in feature, it is easy to read the numbers in this Bally Body Analysis Scale. The item is also lightweight (3.8 pounds) and you can store it under the bed, in a drawer, or in a closet.
The Bally Total Fitness digital bathroom scale has 400 pounds user weight capacity and, although made of glass material, will not easily crack under pressure as long as it is within its maximum weight capacity.
Pros
With easy-to-read LCD Display
Tempered glass platform
High-precision sensors
Step-on technology
Up to 400 pounds capacity
Gives a picture of your body's condition
Easy function
Accurate
Lightweight and sleek/ portable for easy storing
Cons
The possibility that the glass material may crack or break, especially when dropped on a hard surface
Interested? Click on this link to purchase!
Is the Ballys Total Fitness Digital Bathroom Scale worth it?
We can say that Bally Total Fitness Body Analysis Scale is worth the purchase. The benefits definitely outweigh the disadvantages.
And considering its price point and positive reviews from other users, it is probably among the best bathroom scales you can invest in.
Also, the digital readings remove the guesswork and give you accurate measurements.
In-Depth Review of the Bally Total Fitness Body Analysis Scale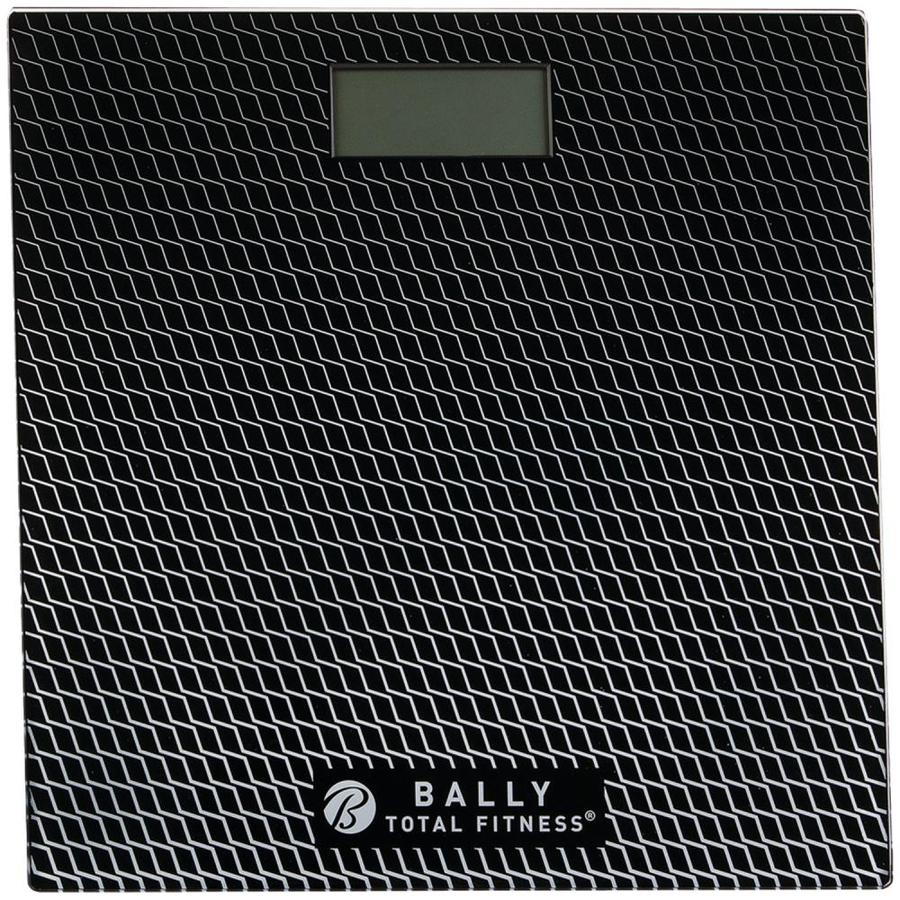 Quality and Durability
The Bally Total Fitness understands that accuracy and quality are important when it comes to the digital bathroom scale. This is why the Bally Total Fitness Digital Bathroom Scale is built with high-precision sensors to give you a precise weight LCD display each time.
The model is available in black finish.
Specifications
Manufacturer Color/Finish: Black
Display Type: Digital
Battery Included: Yes
Maximum Weight Capacity (lbs.): 400
Body Fat Indicator: No
Number of User Memory: 0
Non-Slip Platform: No
Size of Display: 2.6 in
Length (Inches): 12
Width (Inches): 1
Bluetooth Compatibility: No
Series Name: N/A
Wi-Fi Compatibility: N/A
Warranty
The Bally Total Fitness Body Analysis Scale comes with a 5-year warranty to ensure its quality and durability.
Who is it Best for?
If you are trying to lose weight or to stay fit, the Bally Total Fitness digital bathroom scale is ideal for you. The Bally Total Fitness understands that the road to losing weight can be full of ups and downs.
So, to improve your chances of success, they created the Bally Total Fitness digital bathroom scale to help you record your day-to-day or weekly changes.
For best results, it is best to use the bathroom scale every morning when you wake up, while you're not wearing clothes, or before eating breakfast.
A weighing scale is also important if you're measuring the progress of a growing child. If the measurement shows that a child is thin or wasting (weight falling significantly below the expected weight of a child of the same height or length), it may be a sign that the child has acute malnutrition and requires nutritional treatment and care.
What Do People Say About it?
Amazon
One buyer, who goes by the Amazon username "jbpd" said that he/she "love[s] the instant-read feature of [the Bally Total Fitness Body Analysis Scale]." "I don't have to wait for the bathroom scale [to] zero itself out," an Amazon customer said.
Another buyer from the USA rated the digital bathroom scale 5 out of 5 stars because of how easy it is to use. "So simple to use and store away," the Amazon buyer went on.
YouTube
LondonHawthorne shared his unboxing of the Bally Total Fitness Body Analysis Scale on YouTube. "I'm pretty hyped about this…Bally Total Fitness is a very well-known brand. They're actually one of the most successful gym franchises [ around here]," referring to his city South Bend, Indiana.
The Verdict: Should You Buy It?
The Bally Total Fitness digital bathroom scale is a must-have not just for weight-conscious but for those looking for a cool-looking and sleek bathroom accessory.
Even if you are not dealing with an obesity problem, weight remains an important indicator of our overall health. That is why if you want to get into a healthy weight range, this is worth buying.
The Bally Total Fitness digital bathroom scale has that traditional scale look combined with high-precision sensor scale metrics. It gives you an idea of your health by simply standing on it.
We recommend that you keep this bathroom scale in an area where you will regularly see it and will be easier for you to measure your weight.
Remember that humans are creatures of habit.
It will be easier for you to step onto the scale every morning before you shower or before going to bed, whenever you prefer if you regularly see it in your bathroom. What's important is you weigh yourself at the same time every week because your weight may fluctuate throughout the day.
If you like this article, you might want to read our other reviews at ExpertFitness.org
Nathan Lloyd, MSc
LICENSED PERSONAL TRAINER
I'm a personal trainer, based in Boulder, Colorado.
I service clients physically in the Boulder area, mainly in the ONE Boulder Fitness Gym, but am also available for online consulting and coaching.
If you're interested in my personal coaching programs, please contact me via the contact page.