During this time of the pandemic, dumbbells play an essential role in our exercise routine.
You do not have to worry about missing your workouts, as rubber hex dumbbells are one of the best choices to be used at your garage or home gym.
Dumbbells are one of the most effective gear to maintain your journey towards a healthy and fit body. It is highly versatile – it can target a specific muscle group or can also be used for an entire body workout.
In addition, they are user-friendly training tools that give great value to your bucks as rubber coating prevents rusting of the dumbbells and damage to your floor.
A lot of rubber dumbbells are already available in the market. Nevertheless, it may be difficult for you to decide which one suits your taste and budget.
So, let us show you some of the best rubber hex dumbbells set that you can choose from.
Interested? Keep reading to know more!
Best Rubber Hex Dumbbell Set
1. CAP Barbell Rubber-Coated Hex Dumbbells
Product Description
CAP brand is well known for offering high-quality yet affordable dumbbells. It creates a lot of great gear for home use and commercial gyms'.
Cap barbell's head is ergonomically designed with ASTM A48 class 20 grey irons and rubber coating. This coating is black in color and made up of heavy-duty materials.
The classic rubber hex warrants safety during workouts and will protect your floor from unintentional drops and damage.
Heads are joined together by solid 1018 cold-rolled steel, a contoured SDR chrome-plated. Plus, it has a shaft measuring 35mm that is wider than normal.
Cap barbell dumbbells have available weights in 5lbs up to 120lbs with 5lb increments. It is best for lifters with larger hands.
This killer addition to your workout routine will surely develop your strength and build your muscle by burning more calories.
Pros
It has good value for heavier rubber hex dumbbells.
Ergonomic steel handle features diamond knurling that provides grip security when lifting
Available in a wide weight range
Heads are coated for longer wear and tear
Weight is easy to identify
Cons
The rubber odor takes time to go away
Its rubber is a bit greasy
Interested? Here's the link to purchase it!
2. Titan Rubber Hex Dumbbells
Product Description
Titan Rubber Hex Dumbbell is made up of black, rubber hex shape heads that prevent it from rolling. It also has weight indications embossed on the heads.
This pair of weights has an ergonomic chrome-finished steel handle with a knurled grip that provides security during use. The cast-iron weights are permanently soldered to the handle.
The titan fitness hex dumbbells have a total weight of about 150lbs. They are also available in pairs from 5 to 100 lbs as well as various sets from 5 to 25 lbs, 5 to 50 lbs, and full sets.
These dumbbells are best for beginners looking for a good-buy and complete rubber hex dumbbell set.
Pros
It has excellent value and material
Dumbbell weights are easy to identify
Durable
Ergonomic cast iron chrome handle for a secure grip even when you perspire
Cons
Dumbbells have no uniform shaft length making them challenging to get used to.
The rubber odor takes time to go away
Interested? Here's the link to purchase!
3. Rogue Rubber Hex Dumbbells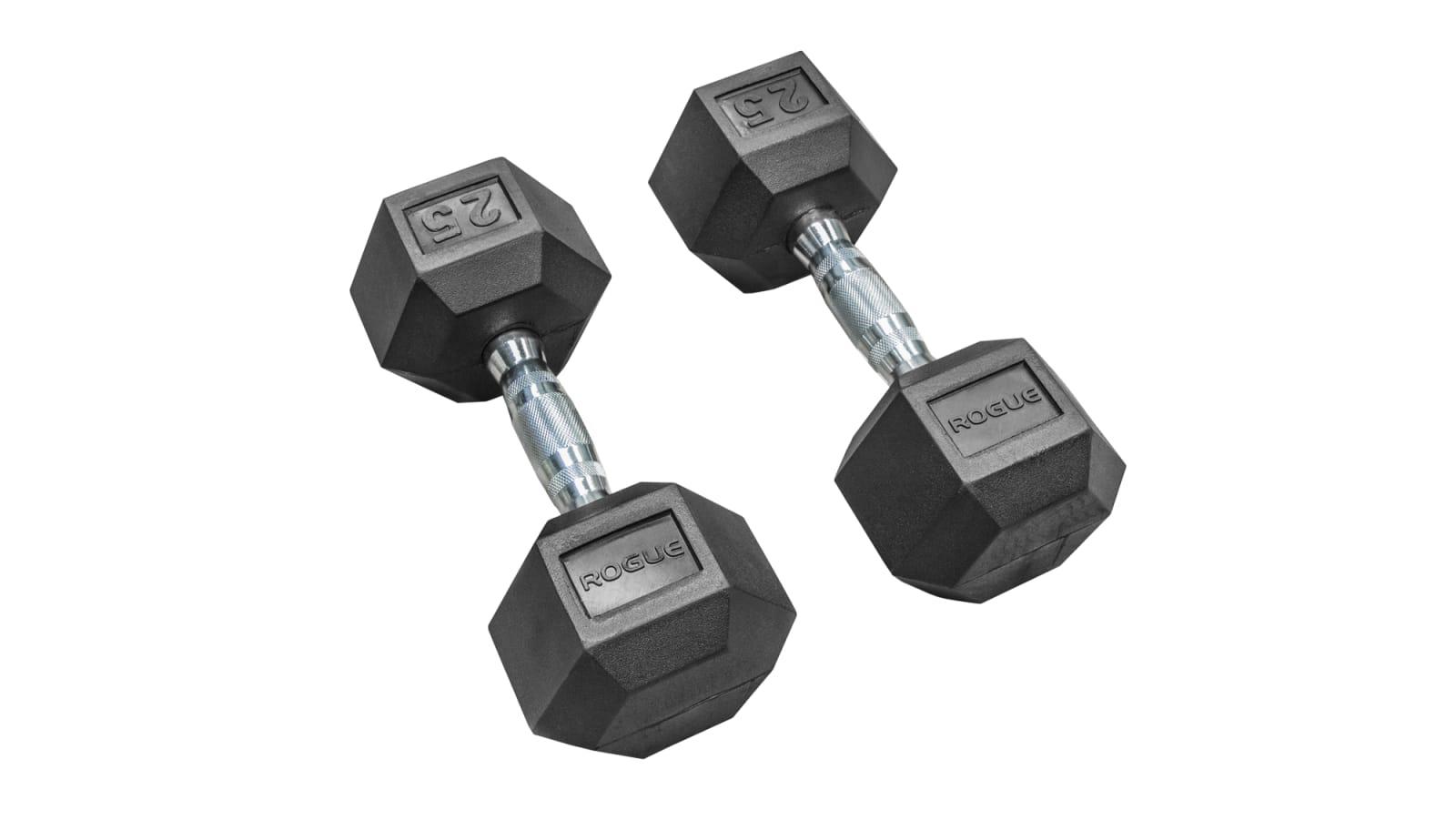 Product Description
Rogue's Rubber Hex Dumbbells feature durable, rubber-encased heads for softer lifting and landing. In addition, the rubber coating helps minimize floor damage and wear and tear on the gear.
These dumbbells have chrome-contoured and knurled handles that have diameter variations for your grip safety as you progress in weight. For lighter dumbbells – 10 lbs and less, the handle measures 25 mm while 35 mm for anything over 10 lbs.
Pros
Offers a variety of set options
Features a heavy-duty Rubber Encased Heads
Easy to grip with its ergonomic chrome-plated handle
Cons
It has a smelly and greasy rubber coating.
Interested? Here's the link to purchase it!
4. SPRI Deluxe Rubber Dumbbells 
Product Description
The SPRI rubber dumbbells have unique hex-shaped heads, sometimes considered octagonal shapes, that are not too pointy. The coating is made of thick and heavy-duty rubber and can be easily cleaned.
These hand weights also feature chrome-contoured and textured handles that fit comfortably in the palm, allowing you to have a tight and secured grip while exercising with confidence.
SPRI deluxe rubber dumbbells which have lighter weights are sold as pairs.
The dumbbells include those weighing 3, 5, 8, 10, 12, 15, 20, and 25 lbs. However, those heavier weights are sold in singles (30 up to 50 lbs).
Pros
Easy-grip
It has a lot of weight range available: starting from 3 lbs up to 50 lbs with 5 increments
Available in unique weight increments (3lb, 8lb, 12lb)
Best for individuals who prefer octagonal-shaped dumbbells
Cons
Some users report staining on surfaces
Interested? Here's the link to purchase!
5. XMark Fitness Premium Quality Rubber Coated Hex Dumbbells 
Product Description
Xmark fitness rubber-coated hex dumbbells feature a tough, exceptional quality casing thanks to its virgin and recycled rubber cover, aside from it improving its durability, it also protects the floor from getting scratches and damage.
It has ergonomic chrome-plated handles that are designed to prevent slipping and to provide comfort when lifting. You also don't have to worry about the cast iron head getting accidentally removed, as it has been fitted and welded to each handle.
This definitely provides a great value for money that can increase your strength training to any basic exercises! Available in 10, 15, 20, 25, 30, 35, 40, 45, and 50 lbs.
Pros
Sturdy, long-lasting
Comfortable to lift
It has excellent value and material
Don't smell as bad as other rubber dumbbells
Cons
Not available in single, only sold in pairs
No 5 lbs available
Interested? Here's the link to purchase it!
Cast Iron Dumbbells and Rubber Hex Shaped Dumbbells
Rubber hex dumbbells are cast iron dumbbells that have been coated in rubber. The rubber coat can help prevent it from rusting, protect the floor from getting scratched, and to decrease banging sounds when dropped unintentionally. They may also have rubber plates and rubber-coated balls. While its hex shape design prevents it from rolling.
Final Verdict: Which One Should You Buy?
Of all the rubber hex dumbbells we reviewed, we would say that the CAP Barbell Rubber-Coated Hex Dumbbells are the best.
What we love about it is when it comes to weight range, they offer the most range available. These dumbbells also feature ergonomically contoured, textured handles that provide comfortable grip and security when in use.
These exceptional quality dumbbells definitely won't burn a hole in your pocket!
Its downside though, its smelly and greasy rubber coating can leave stains on carpets and other surfaces based on some users. This is a common issue in rubber dumbbells. So what I would recommend is to place it in a dumbbell rack instead, let it air dry, and ensure to keep it in a well-ventilated area until the smell subsided.
We hope you catch the perfect one as a stepping stone to achieve your personal fitness goals!
If you like this article, make sure to check out our other articles at ExpertFitness.org