We're aware that proper regular exercise and a balanced diet are still the best ways to lose extra pounds. But what about waist trainers or trimmers? Do they work too?
Some say that waist trimmer belts can only produce a temporary reduction in waist circumference and you will not really see immediate results. Yet, it is true that it helps sweat off the excess water weight in your abdominal area.
The gym waist trimmer is also very handy and you can even wear it while working out. Just hold both ends of the waist trimmer belt and wrap it around your abdomen. 
It creates slimming effects and also gives support to the back, which is very helpful for people who want to correct their posture.
Wearing a gym waist trimmer belt is likewise a reminder that you need to exercise properly and eat better. Now, you may ask: what waist trimmer brand should you buy if you want the best results?
One of the most popular options you have is the Gold Gym Waist Trimmer. It is comfortable to give you freedom (not limit your mobility), but also effective enough to improve your posture and help boost your self-confidence.
If you want to know more about the Gold Gym Waist Trimmer, keep on reading. ExpertFitness.org provides you with more detailed information on the pros and cons of Gold Gym Waist Trimmer and whether you should try it or not.
TLDR: Review of the Gold Gym Waist Trimmer
Product Description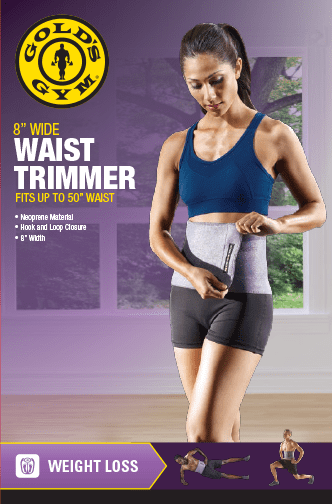 Sold on Walmart and Amazon for more than 5 years already, the Gold Gym Waist Trimmer Belt is comfortable and helps in strengthening your abdominal core.
The material used for this gym waist trimmer is soft neoprene, known for its resilient qualities and flexible blend. Neoprene is also often used in compression garments.
The same neoprene material helps absorb sweat during an exercise. In short, the material supports belly fat melting because of the innate material heat of neoprene.
The Gold Gym Waist Trimmer Belt is available in 8 to 10 inches maximum coverage in the midsection part, although you can adjust the entire belt itself for up to 60 inches so it can meet your ideal fit.
To ensure that the belt stays in place and remains secure after hours of wearing, the waist trainer comes with a Velcro fastener. You may wear it underneath your clothing or above it, depending on your preference.
It appears almost invisible under clothing. One of the biggest advantages of wearing the Gold Gym Waist Trimmer Belt is that it delivers what it promises.
Pros
Fits up to a 50-inch waist size
Flexibly
Neoprene material heat to promote belly fat melting
Adjustable size
Secure closure
Rubber foam, soft material
Lightweight, can be carried around on the go
Increases exercise effect
Promotes longer workouts
Affordable
Cons
Some buyers prefer it rolled up than staying in place
Cannot replace exercise if you want to achieve a real hourglass figure
Some buyers don't like the unpleasant odor after opening the package, usually disappears after a while
Some wearers experience the Velcro straps detach from the waist trainer belt
Is it worth it?
Yes, hundreds of customer reviews on Amazon alone testifies the effect of Gold's Gym Waist Trimmer Belt. This is definitely worth a try since it is affordable.
Most of the users of this waist trainer say that aside from increasing their sweat, the belt promotes weight loss as it contributes to the fast burning of fat. These users admit wearing the sweat belt while they do an intensity workout.
For those who are not sure if the Gold's Gym Waist Trimmer Belt is the right piece for them, they can try wearing it for 5 to 10 minutes while working out.
Interested? You can buy it here!
In-Depth Review of the Gold Gym Waist Trimmer Belt
Specifications
Type: Waist Twister
Usage: Home Use
Gender: Unisex
Muscle Group: Abdominal
Sport/Activity: Gym & Training, Yoga, Weight Lifting
Dimensions:
Item Weight0.44 pounds
Item HeightAdjustable sizes
Quality and Durability
The Gold's Gym Waist Trimmer Belt is durable enough that it has been rated well on Amazon in terms of durability. It can even last for up to 2 years and the material is still in good condition.
Warranty
The Gold Gym Waist Trimmer Belt comes with a 90-day manufacturer warranty.
Who Is It Best for?
Gold's Gym Waist Trimmer Belt is ideal for people who undergo intense workouts as the belt works to trap the heat around their abdomen. It is also best for people who have a busy lifestyle and just want to burn sufficient calories while doing their day jobs.
Those who want to improve their back or body posture, in general, will also benefit from this waist trainer.
What Do People Say About it?
Amazon
Amber Mckee shared on Amazon that she purchased the Gold Gym Waist Trimmer Belt
Gold Gym Waist Trimmer Belt in 2019 and she likes it since "the material isn't overly thick. [It means] it won't show or make you look any bigger under the right clothing."
She also shared a tip to people planning to buy the product, "Use vaseline with this. Vaseline makes you sweat even more. You'll end up rolling the bottom up and sweat will literally drip/pour off of you."
However, Tiffany Dennis was displeased with the product's Velcro. "The Velcro is wider than the part that's wrapped around me. So the Velcro rubs against my skin and it really hurts. Other than that, it works."
Dennis said that she would continue using it but she just has to ensure that her sports bra is under the Velcro pat so it won't be painful in her skin.
YouTube
SHOPFourFUN Waist Trainer UK and USA YouTube channel share how to wear the Gold Gym Waist Trimmer Belt. The reviewer said she uses two Gold's Gym sweat belts. One around her lower belly and the second on the upper part of the belly. "I prefer to put it over my shirt," she added.
Lamont Pervine also reviewed the Gold's Gym Waist Trimmer Belt. "It definitely does help you sweat… It's super comfortable to wear."
"I had no problem with it, like raising up or moving on me while I'm working out. Whether it's on my skin or over my shirt, I've never had a problem with it," Pervine went on.
Final Thoughts: Should I Buy It?
The Gold's Gym Waist Trimmer Belt or sweat belt is definitely worth buying. It has been praised by many users as it gives them a slimmer physique look, and encourages them for a more effective workout.
Many of the benefits of the Gold's Gym Waist Trimmer Belt happens because of the excess heat focused on the mid-section of the body. The material likewise helps increase the wearer's core temperature during a workout.
Again, if you're looking for a simple way to boost your weight loss goals and lose water weight in the abdomen, then wearing a waist trimmer belt is the solution.
But this is not the answer if you are still maintaining a couch potato kind of lifestyle. Stay active while wearing this product for better weight loss results.
If you like this article, you might want to read our other reviews at ExpertFitness.org
Nathan Lloyd, MSc
LICENSED PERSONAL TRAINER
I'm a personal trainer, based in Boulder, Colorado.
I service clients physically in the Boulder area, mainly in the ONE Boulder Fitness Gym, but am also available for online consulting and coaching.
If you're interested in my personal coaching programs, please contact me via the contact page.