Branched-chain amino acids or BCAAs help your muscles get the proper nutrition they need, especially during exercise. By increasing protein synthesis, BCAAs help prevent muscle breakdown, reduce workout fatigue, enhance fat loss, and reduce DOMS (Delayed-Onset Muscle Soreness).
Getting BCAA through food is best, but it's not easy to fulfill your body's BCAA requirement if you only rely on food. All the more reason when you're working out. That's why BCAA supplementation can help a lot.
In this article, we'll explore one of the most popular BCAAs in the market today that is marketed for women. So, without further ado, let's find out its ingredients, benefits, potential side effects, or if it's worth spending your hard-earned cash on this BCAA or not.
TLDR: Ideallean BCAAs Review
Product Description
The Ideallean BCAAs for Women by IdealFit is a supplement designed to enhance women's exercise performance and boost muscle growth. Each serving of the Ideallean BCAAs contains 3,000mg of high-quality BCAAs in a 2:1:1 ratio of leucine, isoleucine, and valine essential amino acids.
[You can also read about: Ideallan Pre Workout Review]
Optimal BCAA ratio for muscle protein synthesis
While other BCAA supplements bump up their ratio in favor of leucine (like 8:1:1), the Ideallean BCAA ratio is optimal for muscle protein synthesis – the process of building muscle mass. This is because a ratio higher than this may work against you when you're gaining muscle, burning fat, or building energy.
A study that appeared in the Journal of the International Society of Sports Nutrition demonstrated that better activation rates happen when leucine is taken with isoleucine and valine than leucine alone.
Leucine is considered the main amino acid. It has a higher ratio than other essential amino acids because it is responsible for starting protein synthesis in the body, which consequently builds and repairs muscle.
Isoleucine plays an important role in the formation and production of hemoglobin (protein in RBC) as well as red blood cells. Its main function as part of the branch chain amino acids is to boost energy levels and help in the recovery process after a workout.
Valine helps stimulate muscle regeneration and growth. It is also involved in the regulation of blood sugar levels and energy production.
Together, these group of branch chain amino acids found in Ideallean BCAAs – Raspberry Lemonade flavor helps curb appetite as well as burn fat during workouts. It is also a good source of extra nutrients, like magnesium and B-vitamins.
The Ideallean fat loss blend: Its role in increasing metabolism and fat burn
As part of its ingredients, Ideallean BCAAs also uses a proprietary blend of conjugated linoleic acid (CLA), Phosphatidylserine, Green Tea Extract, and ThermoDiamine® (98% Evodiamine). IdealFit's ThermoDiamine® is made from evodia rutaecarpa, a fruit known in Chinese medicine for its anti-inflammatory herbal remedy.
While this product is good in terms of promoting muscle building and reducing muscle soreness, there are few users who don't like the strong taste of sugar. Sometimes, they even need to put more water in their bottle just to balance the taste and it's probably because of the sucralose content.
Pros
Optimal BCAA ratio (2:1:1)
Helps fuel workouts and weight loss
Contains IdealLean Fat-Loss Blend
Contains coconut powder for improved hydration
Zero-calorie workout powder
You can mix it in protein powder to maximize the effects
Cons
The product includes sucralose, a low-calorie but high-intensity sweetener that may affect your metabolism
Few customers don't like the gritty taste, though some said Raspberry Lemonade is better than other BCAA flavors of other brands
May not dissolve easily
Is it worth it?
If I have to focus on the formula, the Ideallean BCAAs are quite good and are an effective performance booster. It contains 3,000mg of BCAA per serving, is specifically designed for women, and is reasonably priced too.
I think it's not a bad bed for you because it has a zero-calorie blend, it contains no sugars (although contains sucralose artificial sweetener), and IdealFit maintains good shipping practices for its products.
Aside from Raspberry Lemonade, there are also other flavors of Ideallean BCAAs. These include Blueberry Pomegranate, Grape Explosion, Orange Paradise, and Strawberry Kiwi.
Interested? Click here for the current price.
If you're planning to buy any of these products on the Ideallean official website, simply register and use the tab key or shift plus tab keys to move between menu items and place products in your cart. You may also enter key to key to expand submenu items. Moreover, you can navigate the US site with USD currency or the UK site with GBP currency.
In-Depth Review of the Ideallean Branched Chain Amino Acids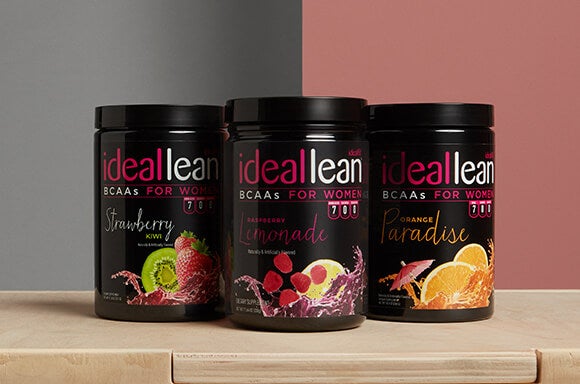 Supplement Facts
Serving Size: 1 Scoop (11g)
Servings Per Container: 30
Ingredients
Amount Per Serving
% DV*
Calories
10
**
Total Fat
0g
0%
Cholesterol
0mg
0%
Sodium
0mg
0%
Potassium
0mg
0%
Total Carbohydrates
3g
1%
Sugars
0g
0%
Vitamin B6 (as Pyridoxine HCI)
20mg
1,176%
Vitamin B9 (Folic Acid)
200mcg
50%
Vitamin B12 (as Cyanocobalamin)
200mcg
8,333%
Magnesium (as Magnesium Oxide)
150mg
36%
IdealLean Fat Loss Blend
Phosphatidylserine Tonalin® CLA Green Tea Extract 50% EGCG ThermoDiamine® (98% Evodiamine)
310mg
**
BCAA 2:1:1 (Instantized)
3,000mg
**
L-Citrulline (as Citrulline Malate)
1,000mg
**
L-Glutamine
1,000mg
**
** Daily Value not established
* %Daily Value (DV) is based on a 2,000 Calorie diet.
Other Ingredients: Natural & Artificial Flavoring (Natural & Artificial Flavor, Maltodextrin, Sugar, Acacia Gum, Modified Food Starch, Propylene Glycol), Citric Acid, Sucralose, Silicon Dioxide, Sunflower Lecithin, FD&C Red 40.
Warranty/ Return Policy
IdealFit provides a risk-free guarantee for their Ideallean BCAAs. They may accept the return of your order within a year of delivery for a full refund, except the shipping costs. For more information about IdealFit's Return Policy, you may click here.
Who is it Best for?
The Ideallean BCAAs for Women is best for women who are serious about burning fat, building lean muscle, and improving muscle recovery.
What Do People Say About it?
Amazon
The IdealLean branched-chain amino acids (BCAAs) gained plenty of positive reviews on Amazon. One customer from the United States who gave it a high rating said, "I have to give two thumbs up to the raspberry lemonade flavor – absolutely LOVE it! The best part is it really does help keep my quads from feeling worn and stiff during my workout. Whether you're in the gym or on the treadmill/stationary bike at home, you'll appreciate this product. It helps me extend my workout which is always a plus!."
However, there were still a few who gave it a low rating. One reviewed, "Decent container size. I wish it came with a scoop!.. Drinking this [Ideallean BCAAs supplement] over time doesn't do anything but taste like sugar/sweetener. Not as healthy as they claim. Do not buy! I haven't touched it in months. As soon as I realized I wasn't getting any benefits out [of] it, even with my workouts, I quit taking it."
YouTube
Carey Anne's Corner shared on YouTube, "I have tons of flavors [of Ideallean BCAAs]…The strawberry kiwi got the right flavor. It's not too tart, but it's still sweet and still [has] a little bit of tartness, but it's not sour…The raspberry lemonade is probably my favorite, but I've been using it for so long. So, I got all of these [flavors] so I've been taste testing them and I like mixing and matching.
Meanwhile, Kimberleigh Lesnick tried the peach lemonade flavor. "It smells really good. I have had a great experience so far. I feel like I do have more energy than normal. Maybe it's because of the pre-workout or maybe because I'm getting used to work[ing] out. I really don't know, but I definitely feel that I have more energy now than I usually do after my workout… This morning when I woke up, I didn't have as much pain in my body as I usually do when I work out."
Final Verdict: Should You Buy It?
Ideallean BCAAs contain ingredients, like the green tea extract that is known to help burn fat and boost metabolism. Although the artificial sweetener can be overwhelming to few people, its overall formula is dedicated to helping women in their fitness journey.
Come to think of it: The product's BCAA content is in a 2:1:1 ratio, it features a fat-loss blend, zero carbs, zero calories, and zero fats. As such, it is something I would recommend.
If you like this article, you might want to read our other reviews at ExpertFitness.org.
Nathan Lloyd, MSc
LICENSED PERSONAL TRAINER
I'm a personal trainer, based in Boulder, Colorado.
I service clients physically in the Boulder area, mainly in the ONE Boulder Fitness Gym, but am also available for online consulting and coaching.
If you're interested in my personal coaching programs, please contact me via the contact page.