Ever since we were little, we are always reminded by our parents to consume enough fruits and vegetables regularly. But did you know why?
Because fruits and vegetables are part of a healthy, balanced diet that would help us be in our optimal physical condition.
They are a good source of vitamins, minerals, and antioxidants that help boost immune function and avoid a health problem.
So what is an antioxidant?
Like the vitamins and minerals needed for physiological functions, Antioxidants, also known as phytonutrients are a plant-based substance that plays an essential role in maintaining health and preventing diseases.
However, according to the World Health Organization, about 8 out of 10 individuals are not getting the recommended amount of fruits and vegetables daily.
Luckily, supplements have been available in the market to ensure that we have an alternative source where we can get additional nutrients for added health benefits. 
Here, we will provide you an in-depth review of a plant-based dietary supplement manufactured by the life extension brand, their optimized quercetin.
If you're interested to know more about its benefits and function, keep reading.
TLDR: Life Extension Optimized Quercetin Overview
Product Description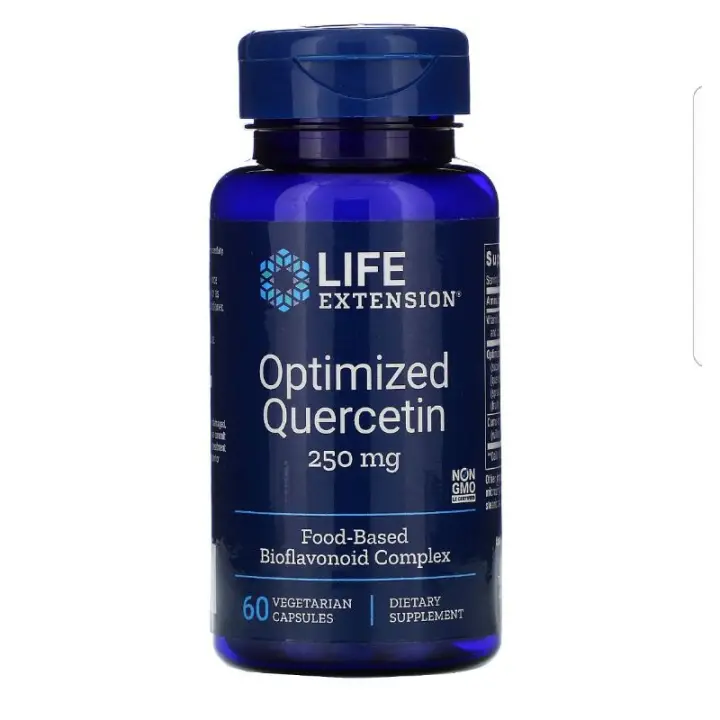 Life Extension Optimized Quercetin is a plant-based supplement that is used to provide a phytonutrient known as Quercetin, with an added blend of vitamin C and Camu Camu berry extract. 
Quercetin
Quercetin is a flavonoid found in fruits and vegetables. These are antioxidants that play an important role in preventing free radical formation in our body, which causes chronic diseases.
Food such as apples, cherries, red onions, buckwheat, and raspberries are some of the common food items that contain quercetin.
Quercetin is also referred to as a superfood due to the many health benefits it provides.
It helps support cellular function by reducing oxidative stress in our body, it also helps promote cardiovascular health by maintaining healthy blood pressure through healthy nitric oxide levels. As well as helps in immune support by reducing inflammation.
Vitamin C
Vitamin C is a water-soluble vitamin that acts as an antioxidant in the body protecting cells and keeping them healthy, it also helps strengthen the immune system, important in the formation of collagen for bones, teeth, and skin, absorption of iron, wound healing, and other metabolic processes.
Vitamin C is not being stored by the body and therefore should be consumed regularly from diet or supplements.
Camu Camu Berry
Camu camu berries are small berries found in South America primarily in Peru and Brazil. These small berries are known for their high vitamin C content and a great source of antioxidants.
Life Extension Optimized Quercetin offers a lot of benefits such as:
Benefits:
Maintains healthy blood sugar levels
Maintains healthy cholesterol levels
Support a healthy immune function
Support healthy blood pressure levels
Encourages healthy vascular health
Promotes cellular health
Pros:
Can be taken by vegetarian and gluten-sensitive individuals.
Quercetin is said to help relieve allergy symptoms
Boost immunity
Cons:
A little pricier compared to other quercetin supplement brands
Some don't see any difference in their health. Considered taking a supplement as a Placebo effect only
Like most supplements, optimized quercetin has not been evaluated by the food and drug administration.
In-Depth Review
Specifications
Optimized quercetin 250 mg 60 vegetarian capsules are great dietary supplements that are loaded with health benefits in each capsule. Each bottle can be consumed for 1-2 months depending on the intake recommended by your health care provider.
One (1) vegetarian capsule provides 30mg of Vitamin C from ascorbic acid and camu camu extract and an optimized quercetin food blend that provides 250mg of quercetin from buckwheat sprout, apple polyphenol extract, and onion extract. And 60mg camu extract wildcrafted berry.
What's even good about this product is that the capsule is made from vegetable cellulose. Cellulose is a non digestible fiber that has no known harmful effects on the body. It contains no preservatives.
This product is also NON-GMO, Vegetarian Friendly, and Gluten free.
Other ingredients
vegetable cellulose (capsule), microcrystalline cellulose, silica, maltodextrin, stearic acid.
Who is it best for?
The Life extension optimized quercetin is ideal for individuals aged 18 years old and above who want to increase antioxidant quercetin in their diet.
Quercetin has been linked to several health benefits such as help support cardiovascular health, improve immunity, as well as support cellular health.
Warranty
Currently, this product does not offer any warranty.
CONVINCED? Click here to buy it! 
What Do People Say About It?
Amazon
Life extension optimized quercetin has garnered quite a high customer rating on Amazon.
A customer from the United States has expressed her satisfaction with the product and has written:
"Love these, they are really helping me and such a great value!"
Another feedback from a verified purchaser from the United States:
"I'm kind of a supplement junkie. This one has become one of my staples. This is a super supplement in my mind. It's a superior antioxidant that attacks those darn free radicals, thus helping with inflammatory responses. Because my skin is on the pink side, and my gut is out of whack, I get flushed a lot. After taking Quecetain for a while (I take 2 a day for a total 500mg dose), I find that I'm nowhere near as red as I have been in the past. There are 60 pills in a bottle, so you need at least a bottle a month, but your health is worth it. You should get some."
YouTube
Here is a short video clip from Life Extension about the benefits you'll be getting with optimized quercetin capsules.
The Verdict: Should You Buy It?
Supplementation can be a great way where we could obtain nutrients when we struggle to get enough from our diet.
Since we are amid Covid 19 pandemic, I think it is important to be extra vigilant and careful about our health.
What's good about life extension optimized quercetin is that it is Non-GMO, safe for vegetarian and gluten-sensitive people. It may also help lower chances against certain cancers, cardiovascular diseases, and other health concerns. It could provide extra protection against viruses and diseases by boosting immune functions.
However, aside from supplements, we should always remember to practice these things: Proper eating habits – consuming everything in Moderation, Variation, and Balance. Regular exercise, having enough sleep at least 7-9 hrs, and avoiding stress as these are the key for optimal health. 
Please keep in mind the importance of safety precautions when taking a supplement. Always consult your health care provider before taking any products.
Safety precaution:
These dietary supplements have not been evaluated by the food and drug administration and are not intended to diagnose, treat, cure, or prevent any disease or health condition.
Always refer to the manufacturer's label on the product for description, recommended dose, and precautions.
If you like this article, make sure to check out our other articles at ExpertFitness.org