If you're recovering from a fracture injury or you just want to stay physically active, then investing in ellipticals can be a good idea.
Having an elliptical machine at home also allows you to perform cardio exercises, which consequently strengthen your heart and reduces your risk of disease. And if your goal is to lose weight, then elliptical trainers will help you burn up to 8 to 9 calories per minute.
That's almost equal to 11.5 minutes of aerobic exercise or running, explained Dr. Len Kravitz of the American Council on Exercise (ACE).
Another great thing about elliptical trainers is that you can move in a low-impact oval motion. And for maximum benefit, you may want to jog or walk between 12 to 20 miles per week using the stationary exercise machine.
One of the most trusted fitness brands when it comes to elliptical machines and cross trainers is Life Fitness. They have Platinum Club Series, Life Fitness Ellipticals, X series, and other models worth taking a look into.
Keep reading our review of the best Life Fitness Ellipticals to learn everything you need to know before choosing one that fits your fitness needs.
Top 5 Budget Elliptical Machine on the Market
1. Life Fitness X1 Cross-Trainer
Product Description
The Life Fitness X1 Cross-Trainer are fixtures that can be used in athletic facilities and commercial health clubs and can be used by almost anyone, regardless of their fitness levels.
It has a patented Link6 drive system for natural, smooth strides, motivating more people to do a total body workout. It even received 5 out of 5 stars on Amazon because of its quality.
The pedals of this model are optimally spaced in a way to lessen stress. The stationary handlebar likewise features ErgoGrip for stability while exercising.
It has a built-in LCD to track your speed, heart rate, time, level, and calories. With its 300-pound capacity, this Life Fitness model accommodates users of all sizes and shapes.
This workout equipment has 20 resistance levels for users to choose from.
Life Fitness X1 Specifications
Model: Life Fitness X1
Stride Length: Fixed at 20″
Incline?: No
Dimensions: 81″ x 30″ x 59″
Warranty: Frame: Lifetime, Parts: 3 years, Labor: 1 year
Pros
Ideal for total body workout
Recognized by health club operators in the US
Natural, smooth performance
Silent operation
Oversized non-slip pedals
2 to 4 user profiles, depending on the choice of console
Accessory tray
With cup holder
patented Link6 drive system producing stride that feels like low-impact walking
Accommodates users of all sizes and shapes
Cons
The stride is fixed at 20"
Noi incline training
No cooling fan
Large foot size (81″ long x 30″ wide)
2. Elevation Series Cross-Trainer
Product Description
The Elevation Series Cross-Trainer is a premium workout machine that combines a quiet operation, natural-feeling motion, and expert biomechanics.
There are four color options that Life Fitness offers for the Elevation Series. It is also designed with evolving technology in mind.
This is because the Elevation Series cross-trainers allow exercisers to connect their wearables and fitness apps while working out.
There are two console options but both promise future-rich entertainment. The SE3HD console, for instance, has a library of Life Fitness On Demand workouts led by instructors.
The monitors on this Life Fitness Elliptical are likely the main highlight as they are touch screens and have interactive features. These features make exercise sessions feel new every day.
With its wireless internet connectivity feature, users can also monitor their asset data. It simply requires software updates and they're good to go.
Elevation Series Elliptical Cross Trainer Specifications
Console: Discover SE3 HD, Discover ST
Dimensions (L" x W" x H"): 88.1″ x 30.7″ x 65″
Equipment Weight: 459 lb
Pedal Dimensions (inches): 17 x 8
Minimum Space Between Foot Pedals (inches): 3.5″
Pros
Samsung Galaxy Watch and Apple Watch compatibility
Fitness Library of workouts led by instructors
Interactive courses
Entertainment and streaming apps available
Commercial grade build (very solid)
Interactive Features
Flexible resistance
Cons
Huge machine
non-adjustable pedals and stride length
Pricey compared to other ellipticals
Interested? Here's the link to purchase!
3. Life Fitness E1 Go Cross-Trainer
Product Description
The E1 Life Fitness elliptical trainer has an upper-body motion handlebar that is ideal for those who want to work their upper body while also getting the benefit of cardio exercise. This is unique compared to other elliptical cross trainers within the same price range.
The Life Fitness E1's heart rate monitoring system shows your heart rate info by simply connecting with touch sensors or wireless chest straps on the machine's stationary bar.
It comes with two consoles: the Go console and Track+. Each of these consoles has workout programming but the Track+ console can connect with handheld devices to help you add higher-tech features and interactive video to your workout.

If you or your loved one, who will be using this elliptical machine is of average height or tall, then Life Fitness Elliptical E1 Go Cross-Trainer is an ideal fit.
Life Fitness E1 Elliptical Go Specifications
Stride Length: 20 in (51 cm)
WhisperStride Technology, near-silent operations
Resistance Levels: 20
Dimensions (L x W x H): 82 in x 30 in x 59 in (209 cm x 77 cm x 150 cm)
Weight: 211 lb (96 kg)
Max User Weight Capacity: 400 lb (182 kg)
Step Up Height: 6.5 in (17 cm)
Stride Length Max: 20 in (51 cm)
Power Requirements (voltage outside the U.S. may vary): All major voltage configurations
Pros
Wireless heart rate monitoring
Oversized non-slip pedals
At least 12 present exercises
Very comfortable and easy to use
Silent operation
20" stride
With water bottle holders
Five-year warranty on parts
Caters to 2 to 4 user profiles, depending on the console used)
Cons
Large footprint (82″ x 30″)
Not adjustable stride, fixed at 20"
No incline training
No cooling fan
4. Life Fitness E5 Cross Trainer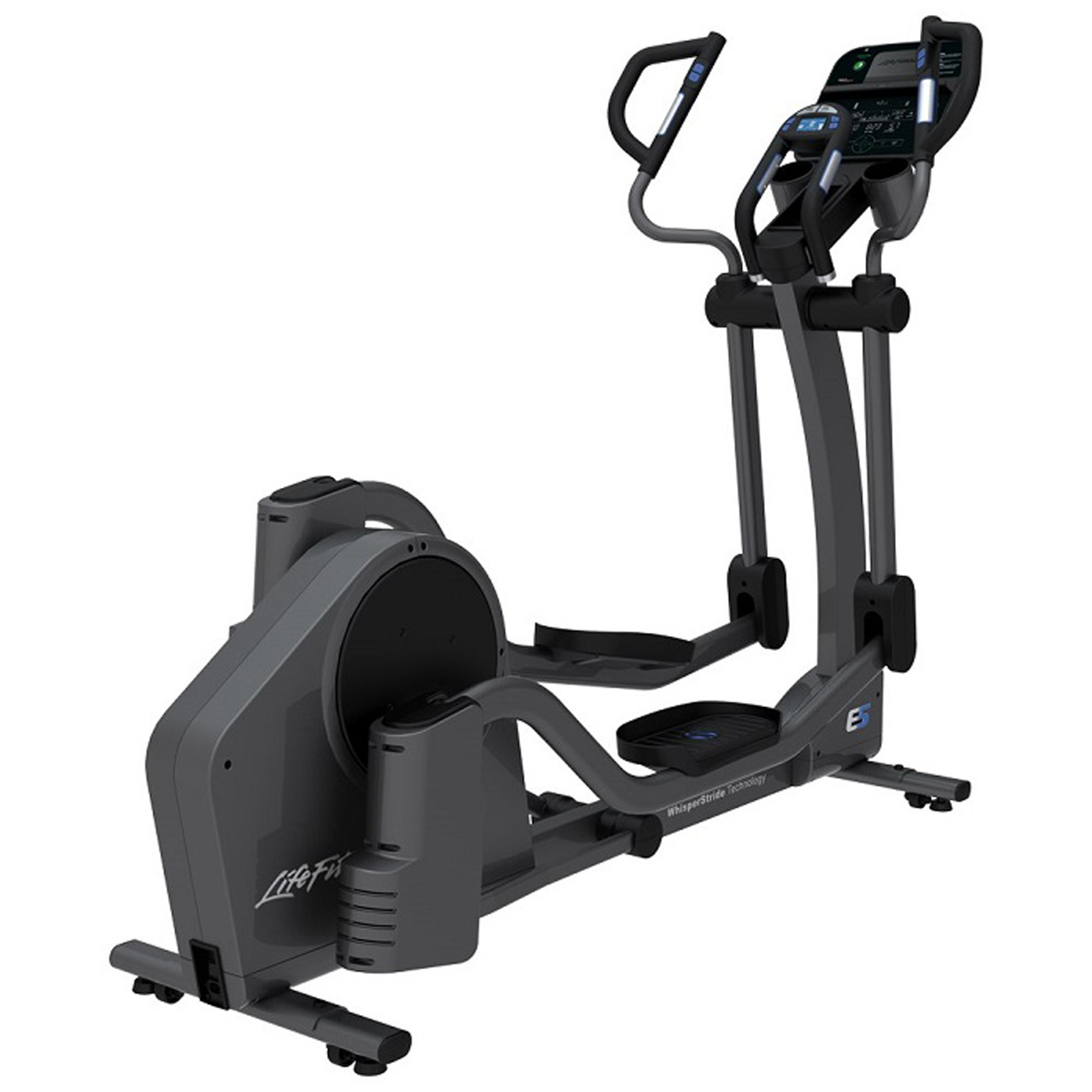 Product Description
The Life Fitness elliptical features whisper stride technology, providing an extremely quiet workout. This allows you to exercise comfortably without worrying that you're disturbing anyone in your home.
Just like the treadmills, stationary bike or exercise bikes, and stair climbers from Life Fitness, this cross trainer has a premium and club-inspired look. Its Titanium finish is eye-catching, ideal for any home environment. 
Moreover, this model from the product line of Life Fitness ellipticals or machines features eye-level placement of smartphones and tablets for easy viewing during a workout.
Another highlight of this Life Fitness model is its adjustable stride that can be electronically adjusted from 18" to 24" or 46-61 cm. By adjusting the stride, users can choose exercises that are challenging to them but, at the same time, feels comfortable and natural.
Life Fitness E5 Specifications
Resistance: 20 Levels
Incline: yes
Pedals: Oversized Non-Slip Pedals
Workout programs: 16
User profiles: 2
Max. Weight Capacity: 400lbs
Heart rate: Pulse Grips, Wireless Chest Strap included
Folding: No
Warranty:
Frame: Lifetime
Parts: 5 Years
Console: 3 years
Labor: 1 Year
Pros
Adjustable stride
Eye-level placement of smartphones
Bluetooth Syncs with fitness apps
Premium look
Titanium finish
Android, iPod, iPad, and iPhone compatible
Extremely quiet operation
Cons
5. Life Fitness Club Series Elliptical Cross Trainers
Product Description
The Life Fitness Club Series Elliptical Cross Trainers are designed for all fitness levels.
It has movable handlebars to support full-body training and its biomechanics will help track your workout data to know what you currently work on, what your strengths are, and what are your weaknesses.
The 7-inch display console enables you to check your performance in the last ten workouts. This model from a range of Life Fitness ellipticals is loaded with different workout programs.
And while it has a commercial gym grade quality, it is also sold for home gyms. This Life Fitness exercise equipment further features life-pulse and polar wireless digital contact heart rate monitoring.
Club Series Elliptical Cross Trainers: Specifications
Frame: 4″ x 4″ and 3″ robotically-welded steel
Max. step-up height: 17"
Resistance system: Alternator
Pedals: 16″ x 7″ oversized pedals
Electronic readouts: Distance, Speed (mph/kmh), Calories, METs, Watts, Time, Heart/pulse Rate, Level
Display Type: Red LEDs
Workout feedback display: 16-character message center
Workout profile display: 7 x 14 segments
Dimensions (LxWxH): 83 x 28 x 61 inches
Unit weight: 235lbs
Max. user weight: 350 lbs
Pros
18 workout programs
Oversized pedals to accommodate feet of all sizes and shapes
Life-pulse digital heart/pulse rate monitoring
synchronized lower- and upper-body movement
Maximizes caloric burn
Great workout variety
7-inch touchscreen
Reversible motion
Award-winning biomechanics
Handlebars have multiple grip positions
Club quality
Cons
Poor warranty coverage
Pricey
Large size than other elliptical fitness equipment
What Workouts Can You Do?
Some workouts that you can do on Fitness Ellipticals include Beginner Elliptical Exercise (keeping the or ramps low and increasing it to one to four increments after 5 minutes), Front to Back (no hands in the middle of the exercise), and 20-Minute HIIT.
You can also change your incline and resistance level every three minutes until you reach the 15% incline. Life Fitness Elliptical Trainers likewise offer you the opportunity to perform a 30-Minute Sprint Build and a combination of the Sprints and Endurance training.
Best Budget Elliptical Machine: Which One Should You Buy?
While all Life Fitness Elliptical Trainers we listed above are worth investing in, our top pick is the Life Fitness e5 Cross-trainer.
Aside from having an adjustable stride, the e5 also helps target different muscle groups of users. This exercise equipment stands out not just in terms of its high-quality features and built, but also of its price point when compared to other high-quality cross-trainers out there.
The E5's rear-drive design also contributes to reliable performance and comfortable motion. If you are living with your spouse or family member who also wants to use the machine, then the e5 is your best choice.
It has user-designed and preset workout programs. You'll also notice the Activity Zone feature on the console. Such provides special workout modes: Total Body Training and Leg Sculptor.
Do these features sound like a potential match for your fitness needs? Then, E5 Cross-Trainer Elliptical would be worth it.
If you like this article, you might want to read our other reviews at ExpertFitness.org.