Did you know that as you enter your 20s, the testosterone levels in your body are already starting to decline? 
A 2020 result published in the Urology Times Journal even states that testosterone deficiency has a prevalence of 10% to 40% among adult males and 20% among men aged 15 to 39 years old.
This is worrisome as the testosterone hormone plays many important roles in the body. In men, it does not only regulate the production of sperm and red blood cells, but also muscle mass and strength.
This is why the effects of a high-quality testosterone booster for men and workouts are complementary. Those who want to build muscle or do endurance training and resistance training may find testosterone boosters helpful.
Another reason why the statistics of those with low T levels is worrisome, especially in the young adult age group, is that many of them are less likely to seek care or feel the stigma of having low libido or experiencing erectile dysfunction.
One supplement that shows promising results for those who want to improve their energy levels, muscle development, and all aspects of daily life is the T Male Testosterone Booster.
But will this testosterone booster really turn back the clock and help you rediscover your prime? Read on our in-depth review of the T Male Testosterone Booster!
TLDR: Review of the T Male Testosterone Booster
Product Description
Nature's Plus T Male Testosterone Booster is a combination of nutrients (amino acids, trace elements, minerals, and vitamins) and herbs (FuranoMaxTM Fenugreek Extract, etc.) known to promote endogenous production of not just testosterone but also nitric oxide.
Testosterone Boosters on Body Functions
Testosterone plays important role in the body of men, such as regulating sex drive, muscle mass, fat distribution, bone mass, and strength while nitric oxide plays an important function in vasodilation. It works by relaxing the blood vessels' inner muscles, causing them to widen and thus increase circulation.
Powerful nutrients, featuring ViNitrox fruit polyphenols, calcium fructate, fenugreek, and high potency zinc aspartate, found in Nature's Plus T Male testosterone booster supplement likewise contribute to the healthy creation of revitalizing testosterone.
Analysis of Some Important Ingredients Found in Nature's Plus T Male
Zinc Aspartate – This supplement contains 30mg of highly bioavailable (meaning it is quickly absorbed into the body) Zinc Aspartate that helps increase free testosterone (not attached to protein and is easily used by the body.)
ViNitrox – Another ingredient found in this supplement from Nature's Plus is ViNitrox. This unique combination of apple and grape concentrates allows the body to control the vicious cycle of peroxynitrite free radical (reduces the testosterone level in the body).
Calcium Fructate – It also contains Calcium fructate that is a natural mineral complex usually found in legumes, vegetables, and fruits. This is rich in trace minerals, like boron and copper, and is known to deliver the key mineral forms in the body that will be used by the hormone-producing enzymes to naturally and safely generate healthy endogenous testosterone.
Fenugreek – This herb has been, since ancient times, believed to promote fertility. In recent studies, researchers even found that saponins content in the Fenugreek may improve numerous indicators of a healthy male reproductive function.
Pros
Gluten-free
Formula for men
Helps increase free testosterone levels
Promotes strength, physical stamina, vitality, mood, and brain function
Influences sexual function and energy
Free from yeast, tree nuts, soybeans, wheat, peanuts, and crustacean shellfish
Free from preservatives and artificial colors
Contains zinc aspartate that plays important roles in testosterone production and regulation
Suitable for vegetarians
Contains vegetable cellulose, an essential dietary nutrient
Contains 60 vegetarian capsules per pack
Cons
Have not been evaluated by the Food and Drug Administration to treat, cure, or prevent any disease or health condition.
Few people don't like the strong garlic odor
Some experienced side effects, like a hot flash or dizziness
Interested? You can purchase it here!
Is it worth it?
The Plus T Male Natural testosterone boost for men is worth buying as it contains the necessary elements that will help in a man's bodily functions.
It is made of natural substances and is free from artificial colors, gluten, and preservatives.
In-Depth Review of the T Male Testosterone Booster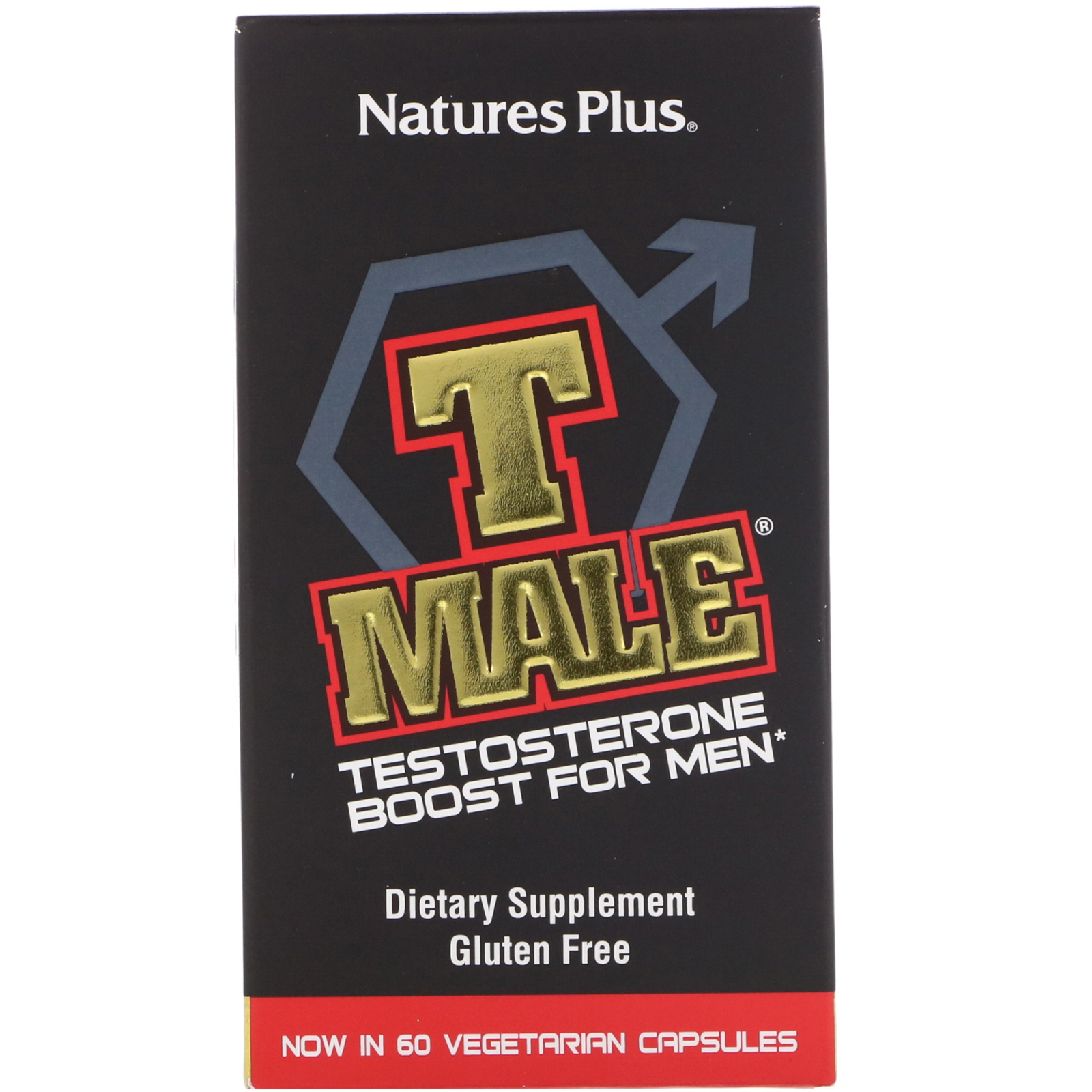 Supplement Facts
Serving Size: 2 Capsules Serving Per Container: 30
| | | |
| --- | --- | --- |
| | Amount Per Serving | %DV |
| Vitamin C (as ascorbic acid) | 60mg | 100% |
| Vitamin E (d-alpha tocopheryl acetate) | 30IU | 100% |
| Vitamin B6 (as pyridoxine hydrochloride) | 2mg | 100% |
| Calcium (as citrate complex) | 11mg | 1% |
| Magnesium (as magnesium aspartate) | 80mg | 20% |
| Zinc (as zinc aspartate) | 30mg | 200% |
| Selenium (as sodium selenite) | 35mcg | 50% |
FuranoMaxTM Fenugreek Extract (proprietary source of fenugreek furans, stanols and furanostanols from whole Trigonella foenum-graecum seed) 300 mg
T MALE Proprietary Nutrient Blend
Tribulus Terrestris, Turmeric (Curcuma longa rhizome) (standardized curcuminoids), Ginseng (Panax root), Garlic extract, Glycine propionyl-L-carnitine, Rhodiola rosea extract, L-Histidine, L-Phenylalanine
ViNitroxTM
Grape (Vitis vinifera) and Apple (Malus pumila) extracts (supplying approx. 95% [142 mg] polyphenols) 150 mg
Boron 5.5 mg
Other ingredients:
Herbal cellulose/ vegetable cellulose, green tea extract, calcium carbonate, and microcrystalline cellulose.
Recommended Dosage/ Instructions of Use:
Take 1 capsule in the morning and another 1 in the evening for faster action. It is best to take this after a meal.
This supplement is gluten-free and contains 60 vegetarian capsules.
T Male Proprietary Nutrient Blend: How it Supports Natural Testosterone Production
What makes this natural testosterone booster for men unique is its proprietary nutrient blend that contains the following:
1. Tribulus Terrestris
This Mediterranean plant is purported to have various health benefits, such as reduced cholesterol and blood sugar and increased libido and sexual function.
Today, it is widely used as a generally healthy supplement and an ingredient in testosterone booster supplements, a study says.
2. Turmeric (Curcuma longa rhizome) (standardized curcuminoids)
Turmeric is not just a trend. It has been used in dietary supplements. One of its benefits is it could potentially help treat erectile dysfunction.
Because it is a strong anti-inflammatory, it may aid erectile dysfunction caused by inflammation, according to Dr. Andrea Paul, a medical advisor of Illuminate Labs.
A 2015 study published in Toxicology Reports supports Dr. Paul's findings. It says that a dietary supplement that contains ginger and turmeric helps improve reproductive function in hypertensive male rats.
However, South Shore Health in Massachusetts points out the potential drawbacks of high doses of turmeric when used in a dietary supplement. It may decrease sperm count and lower testosterone in men, it published.
3. Ginseng (Panax root)
For centuries, ginseng has been used in traditional Chinese medicine. It may help promote energy, fight fatigue, boost the immune system, and it also nutritionally supports the healthy production of testosterone in men.
Study shows that it is a useful alternative for erectile dysfunction (ED) treatment as it contains compounds that protect oxidative stress in tissues and blood vessels in the penis, thus helping restore the normal function of the reproductive organ.
4. Garlic extract
In a study, garlic was found to play a role in testosterone secretion and sexual health. Furthermore, chronic garlic intake has been linked to higher serum testosterone levels.
5. Glycine propionyl-L-carnitine
GPLC is known to be a useful dietary supplement to not only enhance athletic performance, but may also improve sexual performance, tiredness, and depression in older men.
It also works by helping the body produce more energy and is important in muscle mass movement, heart function, circulation, and other body processes.
6. Rhodiola Rosea extract
Some researchers have classified this perennial flowering plant as an adaptogen, meaning it helps to make you less prone to emotional and physical stress.
Rhodiola can likewise boost sexual desire both in men and women. WebMD published that it probably influences brain function. Particularly, it works on the dopamine system in the brain, which is necessary to libido and sexual functioning, although there could be other effects too.
7. L-Histidine
L-Histidine is an amino acid that may help your love life.
According to Dr. Michael O'Leary, a urologist at Harvard-affiliated Brigham and Women's Hospital, most sexual performance supplements/ testosterone boosters contain a blend of ingredients that does not really lead to better sexual function or will not boost testosterone levels.
However, L-Histidine is one of the few exceptions. This is because it works by providing the raw materials from which the body creates nitric oxide. Again, as I mentioned earlier, it is that molecule that helps open and relaxes the blood vessels, which consequently help achieve an erection.
8. L-Phenylalanine (LPA)
This essential amino acid serves as a building block for different proteins that are produced in the body. It can be converted to phenylethylamine, which is a substance that naturally occurs in the brain and helps elevate mood.
Phenylalanine warnings: While phenylalanine is not a health concern for most people, those diagnosed with phenylketonurics or genetic disorder phenylketonuria, this ingredient can be a serious health concern, says Mayo Clinic.
Who is it Best for?
This product is ideal for men between 40 and 60 years old or those diagnosed with low testosterone or Low T (testosterone levels fall below 300 nanograms per deciliter (ng/dL). Men who want to increase the size of their muscle may also take testosterone
Testosterone positively affects male physiology, promoting strength, stamina, and endurance.
Best Alternatives: Other Testosterone Boosters
1. Testo-Max – Best for Building Muscle
This Testo-Max supplement is manufactured by CrazyBulk, another popular supplement company that is based in the UK that emphasizes efficiency, quality, and customer service.
This supplement is created using natural ingredients, including Vitamin D3, Vitamin B6, Vitamin K1, Magnesium, Zinc, Boron, Bioperine, Nettle Leaf Extract, D-Aspartic Acid, Fenugreek Extract, and Ginseng Red Powder.
You'll notice that some of these ingredients are also found in T MALE Proprietary Nutrient Blend. The main goal of Testo-Max is to improve the users' overall performance and strength. 
[You can also read our Testo Max Review]
2. TestRX – Best for Libido
The TestRX is also one of the best alternatives to T Male as it is also made from natural ingredients to help men lose weight while retaining their muscle mass. It is formulated like the T Male to help build lean muscle and improve performance in all aspects of men's daily life.
Just remember, though, that the dosage of this supplement is strong yet effective. Plus, it contains the ingredient ZMA known to promote a better quality of sleep.
What Do People Say About it?
Amazon
There are a lot of positive product reviews on Amazon and other websites of this product.
An Amazon customer said, "[I] can say from yearly blood work that these pills do seem to raise testosterone. I went from having low T to normal and [the] only changes I made was this pill and added some more lifting into my routine. As far as any immediate changes in mood or performance, I can't say [there's much] difference but wasn't looking to it for that, just a natural way to increase my levels.
However, there were very few (6% out of 100%) who only rated the product one star. One customer said, "my husband couldn't tolerate it. [He] got a hot flash that lasted 45 minutes and was so uncomfortable that he was afraid to try it again."
YouTube
Channel Dad Bryon Lape shared on YouTube, "I am a little low on my testosterone for my age but not so much that the doctor wants to give me any kind of medication. So, I've been looking for all-natural ways of trying to boost my testosterone, change my diet, change my workout.
I use this supplement from time to time…But, unlike some of the supplements that I've taken for boosting my testosterone, this really didn't seem to do a whole lot. There are some days that I had a little bit more energy, but other days I didn't. I actually had some mild hot flashes… I could tell [based on the effects I felt in my body] that I was taking something, but it wasn't as effective as some other things… This is 6 out of 10 for me on effectiveness."
Meanwhile, Peter of B-Alive said, "[It] uses vinitrox [fruit polyphenols, which is] a combination of apple and grape extract polyphenols. What they do is they break down the Peroxynitrite cycle So when you're producing your natural testosterone, there's nothing breaking it down."
Opinions expressed by these people do not necessarily represent those of ExpertFitness.org.
Signs That Points to Low T
Any layman can assess if they have low testosterone hormone levels, but knowing how low needs medical help. Some symptoms that indicate low levels and that your body needs attention are:
1. Decrease in Muscle Mass – If you feel that your muscle mass is declining despite eating well and exercising.
2. Frequent Mood Changes – Another sign that points to a low T level in the body is that you tend to feel depressed or experience frequent changes in the mood even if you don't seem to suffer from flu or any infection.
3. Accumulation of Fat – If your body is accumulating fat despite sticking to a healthy diet or working out, it may be because of low T levels in the body.
4. Sustaining Erections is a Challenge – When the body has low T levels, the brain will not reduce the signal to produce nitric oxide that is needed to enable a chain reaction in the body that facilitates erection.
Other Benefits of Testosterone Boosters
Improved Bone Density
Bone density is negatively affected by the decrease of T levels in the body. It can lead to osteoporosis or make a person susceptible to injuries. This is why athletes take testosterone boosters so their athletic performance will not be affected by having a low bone density.
Helps Build a Lean Muscle Mass
People also opt to take testosterone boosters to achieve a ripped look. This is because the supplement can help burn fat as well as help in gradually building lean muscle. This is the specific reason why bodybuilders and weightlifters are inclined to take testosterone boosters.
Better Mood
Depressed feelings and constant irritability could be due to low T levels. Taking testosterone supplements can help fix mood swings as well as enable a person to feel energetic throughout the day. Several studies have likewise shown that a healthy amount of testosterone in the body leads to fewer mood swings, less fatigue, and more energy.
Better Blood Circulation
It has been well-documented that testosterone helps increase red blood cell production. So that muscles get enough oxygen, it is important that red blood cells in the body remain in good quantities.
And men with Low T have an increased risk of developing heart ailments, such as coronary artery disease (CAD).
The Verdict: Should I Buy It?
I have sifted through different testosterone boosters in the market and I can say this Plus T Male Testosterone Boost For Men is not really the best there is. However, it earned good online customer reviews and has been produced by a brand with a trusted reputation since 1972.
Thus, it's still worth considering when looking for a testosterone booster supplement.
In fact, Natures Plus is known to use only bioflavonoids and botanical extracts in their supplements – from children's vitamins and supplements to dietary supplements. This means that the vitamins, amino acids, enzymes, and essential vitamins they used are naturally derived.
Their Nature's Plus T Testosterone Boost For Men, specifically, is designed to support those with low testosterone. It is free from tree nuts, eggs, fish, milk, yeast, and other ingredients that may cause allergies. It is also gluten-free and in one bottle, it already contains 60 vegetarian capsules (good for 30 servings).
Disclaimer:
While this T Male Testosterone Boost for Men is a revolutionary supplement that influences male physiology, promotes endurance and stamina, this has not really been evaluated by the United States Food and Drug Administration to diagnose, treat, cure, or prevent any disease or health condition.
Do not use this information for treating a disease or health problem or as a self-diagnosis. ExpertFitness strives to ensure the accuracy of product information and images, but some manufacturing changes to ingredients or packaging may be pending updates on our website.
We recommend you to read product labels, directions, and warnings before use and not rely solely on the data we provide.
Similar Articles: