The popularity of high-intensity workout programs has changed the way people design spaces for fitness centers and home gyms. Today, there are dedicated spaces for body conditioning workouts that target the whole body.
Fitness enthusiasts and fitness centers likewise invest in full-body workout machines for beginners and gym-goers. Among the must-have home gym equipment for a full-body workout are the Total Gym Fit and XLS.
These workout machines are believed to help both muscle isolation and form. Full-body workout machines also allow you to get used to safe strength training with proper support.
Purchasing a total gym fit or XL allows you to control your environment in your home gym. You can play your favorite music at maximum volume, making the workout more satisfying and giving you better results.
If you want to know more about Total Gym Fit and XLS, keep reading. ExpertFitness.org creates this in-depth comparison as your guide before your next purchase.
TLDR: Total Gym Fit vs XLS
Product Description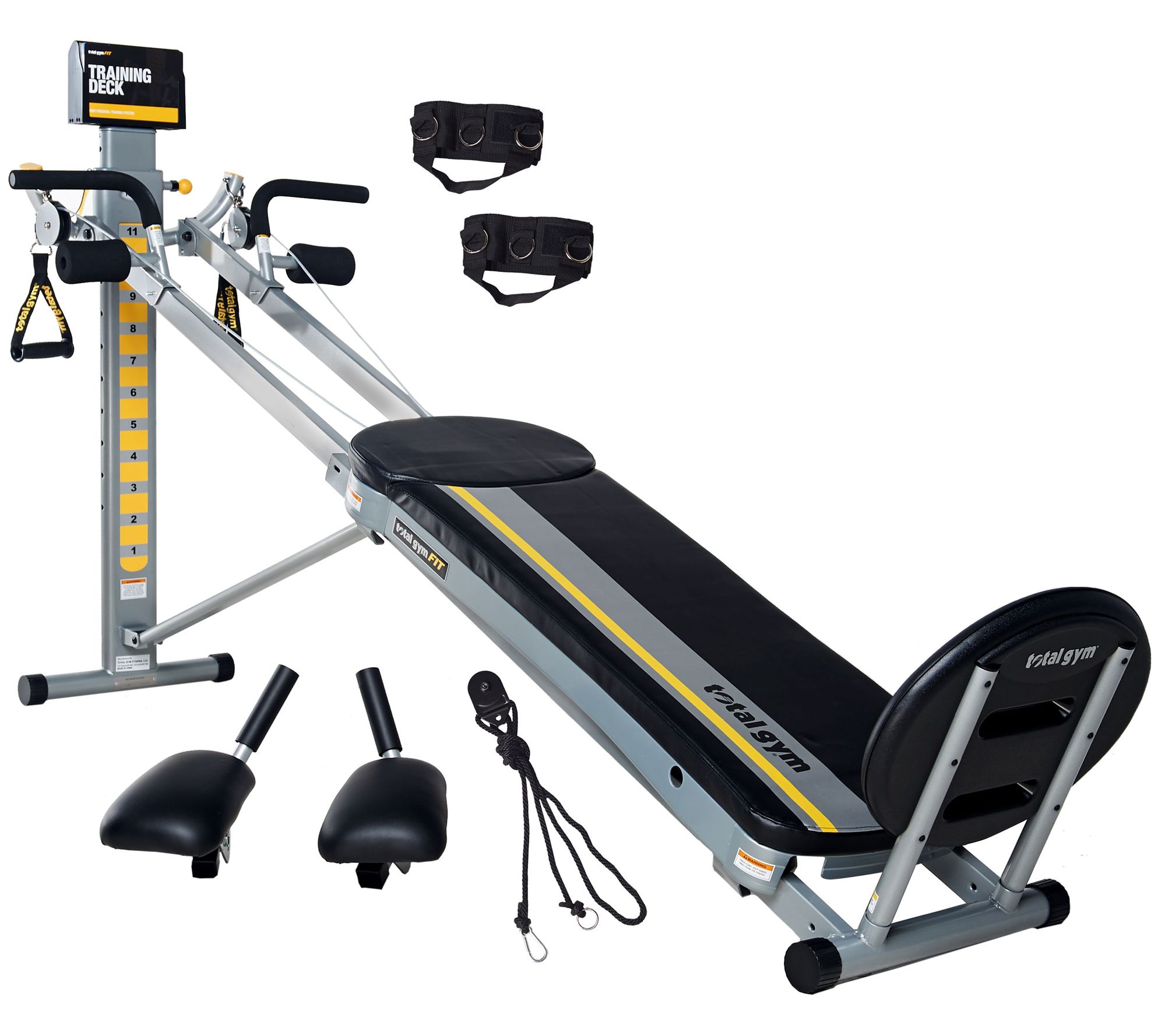 Total Gym Fit
Total Gym fit is probably one of the nicest full-body workout machines available in the market today. The brand itself has been around in the fitness equipment industry since the 1970s.
The first model they introduced back then was designed to imitate the functional activities people do throughout the day. Their work caught the attention of rehab centers and physical therapists as it enabled their patients to comfortably perform strengthening exercises.
Fast forward, one of their flagship models now is the Total Gym Fit. You can perform over 85 exercises in this Gym Fit system and purchasing this one means you'll have access to their workout book too, to see the available exercises you can do.
It likewise provides 12 adjustable resistance levels. Simply adjust the base's height and you're good to go.
Take note, though, that the higher you adjust the resting angle of the base, the higher the body weight percentage you are fighting against gravity. This makes the workout even harder.
Overall, Total Gym Fit has 22 height adjustments that enhance your ability to set your resistance based on your needs.
Pros
Provides more than 85 exercises
Compact design
Maximum user weight of 450lbs
12 different resistance levels for the most effective workout
No Assembly required
Comes with 6 workout DVDs and an exercise chart
Cons
Takes a little while to get used to the machine
Expensive than other full-body workout machines
Interested? You can purchase it here!
XLS
The Total Gym XLS is ideal for men and women who want a full-body workout right at the comfort of their home.
With this machine, they can concentrate on their major muscle group or use it for stretching, strength training, and cardio exercises. Choose from about 80 exercise routines provided as you purchase the XLS.
You will also have video access so you can stream workouts for free. Training guidance is all provided on that platform, regardless of your fitness level.
Simply use the customized percentage of your body weight to determine your ability level for resistance training. The model also has a 400 lbs weight capacity and a height limit of 6'2".
Pros
85 different exercises
450 lb max. user weight capacity
Quiet
Sturdy
No assembly required
Great for stretching and muscle toning
Foldable for easy storage
Comes with extras
Gentle on joints/ smooth resistance
Free 30-day trial
Patented Glideboard for added comfort
Cons
Not so great for bulking up (you use heavier weights for bulking up vs. toning)
Warranty on parts is only for six months
Interested? You can buy it here!
In-Depth Comparison: Total Gym Fit vs XLS
Specifications
Total Gym Fit
XLS
DimensionsLength: 93″Width: 18.5″Height: 44.5″
Workout area: varies
DimensionsLength: 90″Width: 19″Height: 43″
Workout area: 90″ x 20″' (L x W)
Workouts and Exercises
Leg exercises
Pilates
Back exercises
Chest exercises
Ab exercises
Arm exercises
Total body exercises
Shoulder exercises
Total Gym Fit vs XLS: Functionality
| | | |
| --- | --- | --- |
| | Total Gym Fit | Total Gym XLS |
| Exercises | 85 | 80 |
| Levels of Resistance | 12 | 6 |
| Weight Capacity | 450 lb | 400 lb |
| Warranty on Parts | 2 years | 6 months |
Additional Features
Total Gym FIT's additional features include the following:
Full exercise chart
2 piece wing attachment
Heavier duty squat stand
Workout DVDs with different levels of difficulty
Exercise guide
2 angle straps and detachable leg bracket
Total Gym XLS' package comprises the following:
Leg pull attachment
Ribbed squat stand
Wing attachment
Best-selling AbCrunch
[You might also want to read: Vigorfit Vs Total Gym]
Who Is It Best for?
Gym enthusiasts who love a total body workout
Bodybuilders who want to build stronger, better, and bigger muscles
Athletes who need some sort of endurance training
Seniors who need comfortable and safe workout equipment for physical therapy
What Do People Say About it?
Amazon
Justin L. Janacek said that the Total Gym Fit is "one h*ll of a deal." "There have been no issues thus far and have been very impressed with the unit," he reviewed.
However, Rumplestilskin was a little bit disappointed that the Fit he purchased "came [with] missing parts." "Still didn't get the clip to attach my leg/foot harness to the pulley system for the leg work," the Amazon buyer went on.
Meanwhile, 73-year-old Sherry Daniels purchased the XLS. She shared she has had triple bypass open-heart surgery and decided to get herself in shape.
"I do feel better and [it] was stable on my feet. It's easy to pull out [the XLS] out of my closet and set it up [for exercise]," she wrote.
YouTube
Micheal from Get Fit Over40 compared Total Gym Fit vs. XLS. He said, "there are twice as many levels of adjustment [in Total Gym Fit] and those little incremental steps do come in handy, especially when you're doing exercises where the jump is a little too much."
"A huge thing for me is that they stiffened up this whole area, right in here… It's so much more rigid it doesn't flex. So, when you're doing your workout, it feels more dynamic," he said referring to the "area" to the bars.
ACD-Combatives also reviewed the Fit model. He showed the color-coded workout guides on his YouTube video.
"Easy to follow guys, you don't have to worry about trying to figure out how to do these things," referring to the exercises you can do on the machine.
As someone who recovered from a shoulder injury, he said that the Gym Fit model is "phenomenal for physical therapy." "I can't rave it enough. If I could only have one piece of equipment to use other than all that other stuff, it would be the Total Gym," he added.
Wrapping Up: Which One Should You Buy?

Overall, we believe that the Total Gym products are worth the investment, but between the Total Gym Fit vs XLS, the Fit is one of their highest-end exercise models.
If price won't be an issue and you prefer buying a superior exercise machine that will last for many years, then opt for Total Gym Fit.
The Total Gym Fit utilizes a cable system and a pulley all designed as a glide board. That way, as you move your legs and slide in this machine, resistance is created and the process helps build your strength.
With 12 levels of resistance, you can make exercises easier or difficult as you progress.
It is also superior in terms of the number of exercises, levels of resistance, and weight capacity vs. XLS.
If you like this article, you might want to read our other reviews at ExpertFitness.org.