Getting fit nowadays can be challenging, especially when you're used to going out to the gym to work out.
Staying at home, avoiding crowded places and enclosed areas are the new norm due to the ongoing Covid 19 pandemic.
This has greatly affected the way we do things, including the way we stay fit and healthy.
But worry not! The good news is, there are available compact home gym equipment that allows you to easily do gym-quality exercises in the comfort of your home!
And if you're looking for one, you probably came up with the two most talked about all-in-one fitness machines for a home gym fix – The Vigorfit Home Gym and Total gym.
This unique and innovative equipment can integrate several gym exercises into one compact platform. But, which of these two is really the better option?
In this article, we're gonna be comparing the two most popular home equipment machines to help you decide which of these really live up to the hype.
If you're interested to know more about the Vigorfit and Total Gym Xls, keep reading!
Vigorfit Gym Overview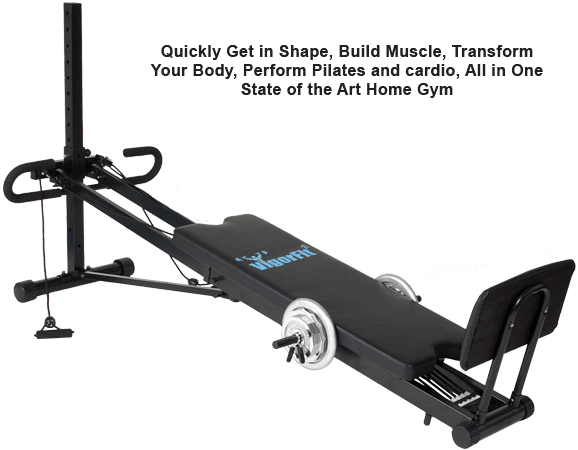 Product Description
The Vigorfit Gym offers an exceptionally wide variety of gym exercises you can perform on one exercise equipment platform. It includes power bands/ resistance bands that are effective as weight resistance training.
Unlike other home gym equipment of the same kind, the Vigorfit Gym includes almost all attachments you can possibly attach to it free of charge. The equipment is made of quality materials that are why the manufacturer is confident to include a lifetime warranty.
Key Features
Features 107 different gym exercises
Comes with end to end Lifetime Warranty
Free Pilates Kit – inside the kit include resistance bands, shoulder pads, ankle cuffs, and a toe bar.
It has impressive resistance levels that will satisfy most users, even bodybuilders & professional athletes
Comes with a pull-up bar and push-up weight bar, dual leg rope, weight bar with weight clips, sit-up station, squat board.
Pros
Allows a wide variety of exercises in a single equipment
Foldable design for easier storage
An impressive 75 resistance levels of intensity
Made from a durable steel frame
You can access free personal trainer via email
Includes more basic attachments
More affordable than Total Gym
Cons
User weight limit of 350lbs
No exercise DVD guide included
Who is it best for?
Interested? Here's the link to purchase!
Total Gym XLS Overview
Product Description
The Total Gym XLS is one of the best total gym models they offer. It will get you fit and in shape without having to sacrifice precious space.
Using a glide board, some attachments, and gravity, it is designed to strengthen and tone every major muscle group in your body.
It's really a total gym experience with the Total Gym equipment since it is designed to work out your lower body, abdominals, and cardio aside from the usual upper body workouts which most fitness machines do.
The Total Gym requires no assembly and folds easily for storage purposes.
[You might also like: Total Gym Xtreme Review]
Key Features
Features 80 different gym exercises 
Full body workout for all major muscle groups including cardio, strength, and stretching training 
Comes with useful accessories like ribbed squat stand, leg pulley accessory, wing attachments, wall chart, training deck, as well as nutritional meal guide
Free access to Total Gym TV for guidance and training DVDs 
 Includes their best selling Ab Crunch attachment
Pros
Compact and no assembly required
Higher weight limit of 400 lbs
Higher quality pulley system
Includes nutrition guide, charts, etc to help in your fitness journey
Lifetime warranty of frame
Comfier to use as it features a padded pillow
You have the option to add more free weights
Best selling among total gym models
Cons
More expensive than the Vigorfit
Fewer resistance levels
If you want a full pilates kit, you may need to purchase it separately
A fewer number of exercise routines
Who is it best for?
Interested? Here's the link to purchase!
Vigorfit Home Gym vs Total Gym XLS Exercise Equipment
Similarities
The Vigorfit gym 3000 and the Total Gym XLS are both home gym equipment that uses an incline level system bench and resistance band pulley.
Their functionalities are basically the same with a few extra attachments and features as differences, as well as price points.
They both come fully assembled and are foldable for easier storage.
Differences
Variety of Exercises
The Vigorfit can do a wider variety of gym exercises, totaling around 107 due to the number of attachments included in the package.
The Total Gym on the other hand can do around 80 exercises with its limited inclusions. However, the user of the Total Gym can buy additional attachments for more exercises options.
Inclusions
One of the main differences between the Vigorfit and the Total Gym is probably the inclusions in the package. Vigorfit comes with more free attachments and a free pilates kit which significantly increases the number of exercise routines you can do with it.
The Total Gym, on the other hand, provides users with workout DVDs, nutritional guides or meal plans, and an exercise wall chart.
Price
Affordability is probably the most significant difference between these two pieces of equipment. Vigorfit is more affordable than Total Gym as of this writing.
Warranty
Another relevant difference between the two home gym equipment is its warranty. Vigorfit offers full lifetime coverage on the entire equipment including the frame, attachments, and other parts while total gym only offers a full warranty on its frame alone and only 6 months coverage for all moving parts which includes the pulley system, the glide board, the resistance bands, etc. Vigorfit is clearly the winner in terms of the warranty.
Comfort and Durability
When it comes to comfort and durability, both vigorfit and total gym is constructed with high-quality material and frame, with high-density padded pillows that provide user maximum comfort.
However, Total gym can accommodate higher weight limits of about 400 lbs whereas vigorfit has weight limits of up to 350 lbs only which is why we think the total gym is much sturdier.
Also, another worth mentioning is their pulley system. The Total Gym XLS features rubber-coated steel cables with non-slip nylon straps while vigorfit 3000 uses a thin rope for the pulley mechanism.
Resistance Level
Total gym's resistance level offers up to 12 levels only, while Vigorfit provides up to 75 resistance levels. Vigorfit comes with 5 power bands which makes it reach up to 75 levels, while the total gym includes 2 power bands giving it 12 in total.
But on a quick note, you can still add more weights on both machines if you prefer. You can also purchase an add-on for the total gym to further increase its resistance level.
In-Depth Home Gyms Comparison: Vigorfit vs Total Gym XLS
Specifications
Vigorfit gym
Number of Exercises: 107 exercises
Resistance Levels: 75
User Body Weight Capacity: 350 lbs
Attachments Included and/or Accessories: Comes with workout manual, free Pilate kit
Dimensions: 19" x 90" x 43"
Weight: 80lbs
Training videos: None
Height Capacity: 6 ft 5 inches
Warranty: Full Lifetime Warranty
Who is it best for: Ideal for all fitness enthusiasts, beginners, and even professional athletes/bodybuilders
Total Gym Xls
Number of Exercises: 80+ exercises
Resistance Levels: 12
User Body Weight Capacity: 450 lbs
Attachments Included and/or Accessories: Comes with a DVD guide, nutritional meal plan
Dimensions: 18.5" x 93" x 44.5"
Weight: 83lbs
Training videos: Yes
Height Capacity: No limit
Warranty: Full Warranty on Frame only, and 6 months warranty on all moving parts
Who is it best for: Ideal for all fitness enthusiasts, beginners, and even professional athletes/bodybuilders
What Do People Say About It?
Amazon
On Amazon, a review written by a verified purchaser about Vigorfit gym wherein he has also tried using total gym before, he mentioned:
"I have had the total gym in the past and this is far more durable and has more resistance, at half the cost! I waited 4 months before posting this short review because I wanted to be sure it was not a flimsy unit. So far so good! My wife, daughter and I are using this! A friend who works out with me at the gym was skeptical when he saw this, and after a few exercises, he was impressed with the resistance, smoothness, and quality for the price! I bought this as an intermediate unit to be used on off days at the GYM, but have incorporated it as a normal routine. Solid, strong construction, great work out."
On the other hand, A total gym review written by a verified purchaser never regretted purchasing the total gym machine:
"Remarkable machine and Great purchase. I've been a soldier for over 20 years. During that time I have suffered from back and knee injuries that make a wide variety of exercises difficult these days. The Total Gym has been excellent at allowing me to do full-body workouts without overstressing any particular muscle groups or aggravating previous injuries. I do not regret this purchase in the least."
Youtube
In this video posted by FBGyms, the Vigorfit was reviewed from a medical professional's point of view. In the quoted testimonial by Michael Funk, a medical professional in rehab, he noted that one unique thing about this equipment is that "there is no axial loading of the spinal column when exercising. This will slow or eliminate the development of degenerative changes that can come with overuse and if you have back problems, this will not aggravate those problems."
On the other hand, A youtube video from the channel LivingWellTV has shared his experience after trying out and purchasing total gym equipment. He uses it to work out at least 1-2 times a week.
In the video, he mentioned: I gotta say I find it really fantastic!.. It's a great machine, I've done great workouts on it, some great chest workouts, great back workout, biceps, triceps, legs are really good.
He also mentioned that he posted a separate video, showing how he does his leg workout. He uses a resistance band. "It really gives resistance in your legs especially on the top phase of it. You could really feel it on your legs."
The Verdict: Which One is Better?
To sum it all up, the Vigorfit and the Total Gym, provide practically the same basic functionalities with the same basic exercises.
The Vigorfit has an advantage over Total Gym in terms of resistance levels and the number of exercises you can perform with it, mainly because of the number of attachments included in the package.
Price-wise however, the Vigorfit also provides the most value for money. It's cheaper yet provides more in terms of exercise options.
The only time Total Gym can be a better option than Vigorfit is when you weigh more than the weight capacity design of the latter.
If you like this article, make sure to check out our other articles at ExpertFitness.org
FAQ
1. Is there a trial-free period when you get vigorfit or total gym?
Both vigorfit and total gym offers a trial period that lasts for 30 days – a money-back guarantee.
Though they provide a free trial period, as of writing, there are still no records of clients that have returned their equipment during that time frame.
2. Are there any additional charges when purchasing vigorfit or total gym?
There are no additional hidden charges when purchasing both home gym equipment. However, you may opt to purchase add-on attachments which will require you to pay more but allows you to do more exercises.
3. Is there a height limit for both vigorfit and Total gym?
Vigorfit can support a height limit of up to 6 ft 5 inches tall, while total gym can support users of any height.
4. Do you need to set it up when purchased?
There is no assembly needed with both home gym equipment. You can just simply take it out of the box, and it's ready to use.