Many people start their weight loss journey blindly. They are careful with what they eat, they go for a jog or even take a pre-workout fat burner, but a structured approach to losing weight relies on having data about your body, your exercise routine, and your diet.
And fitness trackers are great tools to get that information. They're an easy way to track and record your daily activities, calories expended, sleep, heart rate, and get notifications in case you've been sedentary for too long.
From Garmin and Fitbit to Samsung and Apple, there's plenty of wearables to help you stay fit. There's another fitness brand we'd like to introduce that can help you with your weight loss journey and transform your workouts: the Vivitar Fitness Tracker.
But is it just targeted at fitness enthusiasts? Is it really worth it compared to other fitness trackers that have more detailed sports tracking and advanced smart features? Well, that's our focus in this review.
Without further ado, let's find out if you should take a leap with Vivitar Fitness Tracker and start tracking!
TLDR: Vivitar Fitness Tracker Review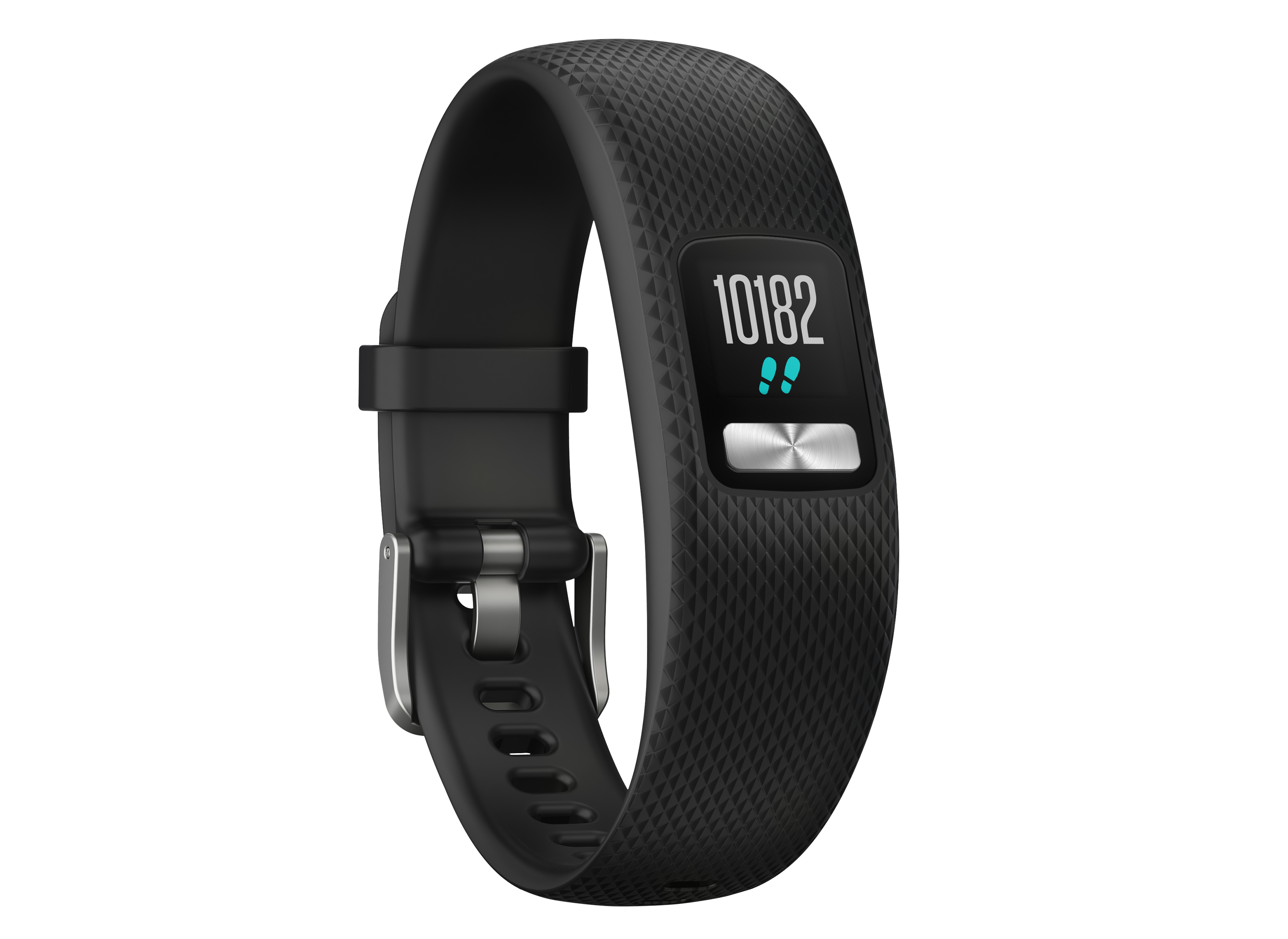 Product Description
Vivitar Fitness Tracker is a 5-in-1 watch with a monochrome touchscreen display and it features step counting, real-time heart rate monitor, calories burned, and sleep tracking.
This wearable device is easy to use and pair. It is compatible with Android and iOS through Bluetooth technology. It also wirelessly syncs your health data with your phone using the Vivitar Get Fit app.
We also like that the Vivitar Vfit 5 in 1 watch has a responsive touchscreen that makes it easy to perform key tasks, like accessing messages, alarms, and calendars. It is also equipped with a sweatproof band.
Pros
Tracks steps, calories burned, and distance traveled
Easy to use and pair
With a built-in USB charger
Lets you set reminders
Receives incoming calls and message alerts
Up to 5 days battery life in one full charge
Affordable vs. other fitness trackers
Lightweight
Cons
Program is limited
No backlight
Not plenty of positive reviews on Amazon
Few buyers are experiencing issues when charging this tracker
Interested? Here's the link to purchase it!
Is it worth it?
While the product is equipped with features like tracking calories burned, blood pressure, heart rate monitor, and distance traveled, we believe it'll give more value to your money to invest a little more in other great budget fitness trackers that last longer and collect more metrics.
In-Depth Review of the Vivitar Fitness Tracker
Specifications
| | |
| --- | --- |
| Dimensions (WxD) | 1.3 x 0.4 |
| Weight: | 1.4 |
| Color: | Black |
| Inactivity Alerts: | Yes |
| Multi-sport Tracking | Running, Walking |
| Sensor Types: | Accelerometer, Heart-rate |
| Wifi: | No |
| Music Controls: | No |
| OS Compatibility: | iOS, Android |
| App Name: | Vivitar Get Fit |
| Battery Life: | 7 |
| Battery Removable: | No |
| Notifications: | Yes |
| Notification Types: | Calls, Text |
| Socialization: | Yes |
| Socialization Features: | Share Data To Your Social Network |
| Sleep Tracking: | Yes |
| Sleep Sensing Method: | Auto |
| Floors Climbed: | No |
| Alarm Type: | Vibration |
| Included Accessories: | USB Magnetic Charging Cable |
| Bluetooth USB Dongle | No |
| Food Tracking: | No |
Quality and Durability
This exercise and fitness watch may not be the most durable fitness as compared to other branded smartwatches, but it is overall very good and accurate. It counts steps, miles, BP, and BPM. Most importantly, its app easily syncs with the measurements or metrics.
Additional Features
The Vivitar Fitness Tracker has socialization features that enable you to share your health or fitness data with your social network. It also has a GPS tracking feature.
Warranty
All Vivitar products carry a one-year warranty from the date of purchase, regardless of where you purchased them. Take note, though, that this warranty covers only the original consumer purchaser and is not transferable.
Malfunctions or damages not resulting from defects in workmanship and the material are not covered by the warranty. For troubleshooting information and to obtain warranty service, you may email the Vivitar team at email support@sakar.com or call them at 1.800.592.9541.
Who is it Best for?
This fitness tracker is best for people who are looking for a tool to improve their health and achieve their fitness goals. Since this watch is also inexpensive, this is ideal for those who don't want to spend several hundreds of dollars on a fitness tracker.
What Do People Say About it?
Amazon
While we think the watch is pretty decent quality for its price, some Amazon buyers are not happy with their purchase. One buyer reviewed, "[The] activity data are not uploaded to the mobile app automatically through Bluetooth connectivity. One has to enter the data manually."
Another said, "I got a Vivitar fitness tracker and heart monitor as a work anniversary gift. It worked for about a month and then it failed to keep a charge… I called customer service, but got no assistance."
YouTube
LyndzyTIME shared on YouTube, "This is a budget-friendly fitness tracker…When wearing [it, just] make sure that the band is tight enough so that the sensor is making contact with your skin, but not so tight that it is uncomfortable."
Meanwhile, RnW Solutions got the 5-in-1 fitness tracker model and said, "I like the look of it and it's very cost-effective compared to an Android, Fitbit, or an Apple watch. Anyway, I like the comfort of it. It's very small and lightweight. It has a time, battery, [and] Bluetooth."
However, RnW Solutions, also mentioned that the sleep tracking feature of the Vivitar fitness tracker is a little bit inaccurate. As he showed his sleep data through his phone, he added, "I must have [gone] and sat down between 5:30 and 6:30, [but the fitness tracker] counted that all as part of my sleep. That is obviously incorrect… [Overall,] I would probably rate this [tracker] at a four out of five."
Best Alternative: Fitness Trackers for Every Budget
If you're looking for an affordable fitness tracker, but has good features and have mostly positive reviews from customers online, here are some fitness trackers you can shop:
Best Overall – Amazon Halo Band
This is an intensity-based activity tracking watch and measures body composition, tone of voice, sleep, activity, and overall movement health.
Best Value for Money – Fitbit Charge 4
With Active Zone Minutes, a 24×7 heart rate tracker, and built-in GPS to see your distance or pace during outdoor runs, hikes, and rides.
Most User-Friendly – SoundPEATS Smart Watch Fitness Tracker
Equipped with a 1.4-inch color touch screen, this watch is easy to operate. It is also multi-functional, such that it has many practical tools, like a music controller, breath training, countdown, alarm clocks, and sedentary reminder.
The Verdict: Should I Buy It?
This 5-in-1 Bluetooth fitness tracker does record your heart rate, distance traveled, blood pressure, and sleep while wearing it. The Vivitar Fitness Tracker is also readable both in bright light and low light. So, it offers good value for the price.
But for overall impression, we would rather invest more in a stylish tracker with plenty of features and still, you can buy for a modest price tag. Brands like Fitbit, Garmin, and those in our recommendations above are surprisingly cheap and feature-packed at the same time.
We hope you find a fitness tracker with features that match your needs. Have a great workout!
If you like this article, you might want to read our other reviews at ExpertFitness.org.