Protein powders are beneficial to help ensure that your body is satisfied and nourished while working out. They can be used to build muscle mass, improve sports performance, lose weight, or for overall wellness.
But there are just so many protein powder options to choose from. How will you know what type fits your personal health goals? Through our practical knowledge, one way is to match the protein power to your needs. 
That means choosing the protein powder based on the nutrition levels and quality of ingredients. But how about the flavor? After all, it's another way to make sure you'll continue consuming it because you do enjoy its taste.
Each protein powder, including the Muscle Milk, has a unique taste that depends on the protein source and ingredients.
ExpertFitness.org provides you a list of the best Muscle Milk flavors to learn everything you need to know before you buy.
Top 5 Best Muscle Milk Flavors
1. Muscle Milk Café Latte Flavor
Key Features
Our research indicates that the Café Latte Flavor is considered to be the ultimate grail of Muscle Milk and it is a combination of coffee, milk, and protein. Their combination makes the Café Latte Flavor an ideal go-to morning beverage or your afternoon pick-me-up drink.
The Café Latte Flavor is yours to enjoy in the comfort of your home. You can also drink this hot or cold, whichever you prefer.
It contains high-quality protein, ideal for those who want to build lean muscles and recover after exercise. Plus, it is NSF Certified for Sport.
Formulation
32g Protein, 120mg Caffeine, 2g Sugar Per serving
Health Benefits
Contains Vitamins A, C, D, and Calcium per serving.
Pros
Protein and Caffeine combination
Made with real coffee
Contains Vitamins A, C, and D
Gluten- and Soy-free
NSF certified
Good for weight control
Cons
Has some, but isn't high in carbohydrates
2. Muscle Milk Cookies 'n Creme Flavor
Key Features
Who could have thought that it's possible to live in a world where cookies can make your muscles bulge without worrying that it will jeopardize your gut health. This is the promise of the Cookies 'n Creme Flavor.
Our findings show that the Cookies 'n Creme Flavor from Muscle Milk has also undergone the NSF Certification, which lets you know that the product complied with the standards for public health protection.
Formulation
Contains 32 gm protein and 20gm carbs per 2 scoops (70g).
Health Benefits
The Cookies 'n Creme Flavor contains essential amino acids, which play an important role in muscle growth.
Pros
High-quality fast and slow releasing proteins combined in this product
Helps fuel recovery from exercises
Can be added to smoothies, supplement shakes, and your favorite recipe
Cons
Not ideal if you're dirty bulking (aggressive weight gain to promote strength and muscle gain)
3. Muscle Milk Chocolate Flavor
Key Features
The cacao in chocolate milk works by transporting sugar into the muscle, which then becomes glycogen. No wonder why the Muscle Milk Chocolate Flavor is often preferred by personal trainers and fitness enthusiasts because it gives them a shorter recovery time and helps replenish their muscle tissue after a workout.
Our team discovered through using this product that, you can also add this flavor to smoothies, pancakes, or other recipes to increase your protein intake. 
Formulation
Contains 32 gm protein, 20gm carbs, and 3 gm sugar per 2 scoops (70g).
Health Benefits
Excellent source of vitamins A, C, & D, and calcium. Also, this product is lactose-free so those who are lactose intolerant can consume this drink without worry.
Pros
A good post-exercise recovery drink
Can be added to your bodybuilding routine
Lactose-free
Helps you maintain a positive protein balance
Can be used before or after a workout or prior to bedtime
Seal for freshness
Easy to mix using a shaker
Delicious
Cons
Few buyers say chocolate flavor tastes like cake mix
Interested? Here's the link to purchase!
4. Muscle Milk Vanilla Crème Flavor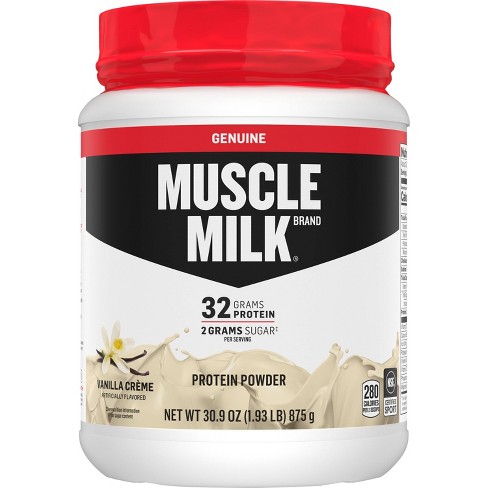 Key Features
Just like the other Muscle Milk products mentioned above, the Vanilla Crème Flavor helps support muscle growth, maintenance of muscle mass, and muscle rebuilding.
After trying out this product, our team discovered that what makes the Muscle Milk Vanilla Crème Flavor unique is its mixability and flexibility. It dissolves easily and quickly. And it is flexible, such that you can combine it with other flavors.
The flavor is refreshing vanilla and doesn't have that overwhelming taste as other protein drinks or powders have.
Formulation
Each two-scoop of the Muscle Milk Vanilla Crème Flavor contains 2 grams of fiber, 280 calories, and 32g of protein.
Health Benefits
In one pack of Muscle Milk Vanilla Creme, it contains antioxidant vitamins A and C and essential amino acids, including Leucine that plays an important role in the general health of muscle.
Leucine also reduces protein breakdown and helps stimulate protein synthesis.
Pros
Flexible, if you want to combine it with other flavors
Great for an everyday snack
Post-workout recovery drink
Protein boost
Supports muscle growth and rebuilding
Cons
Others don't like the new formula that is foamier compared to old formulas
Few buyers find the vanilla too sweet
Interested? Here's the link to purchase it!
5. Muscle Milk Strawberry Banana Flavor
Key Features
When we trialed this product, we found out that the Muscle Milk Strawberry Banana Flavor can help satisfy your hunger and energize you as you start your day. 
Anyone leading an active lifestyle can take this Muscle Milk Strawberry Banana Flavor as a protein-enhanced drink or before bedtime. This supplies the muscle tissue with a healthy supply of amino acids while sleeping.
Formulation
In one pack of 4.94 pounds of Muscle Milk Strawberry Banana Flavor, it contains 32 grams of protein, 280 calories, 1g of dietary fiber, 0.7mg of iron, 380mg of potassium, and 210 of magnesium.
Health Benefits
Listed in the ingredients of Muscle milk Strawberry Banana Flavor are milk protein isolate and calcium sodium caseinate (milk). Just like other Muscle Milk flavors, it contains vitamins A, C, and D.
It is a good source of essential amino acids, including Leucine for muscle building. This Muscle Mix protein is lactose-free so you won't have to worry about having an upset stomach after taking this product.
Pros
Helps support muscle growth and rebuilding
Can be taken as a snack or post-workout recovery
Can be used as an on-the-go-breakfast
NSF certified
Good source of Vitamin A, C, & D and calcium
Cons
Best Muscle Milk Protein Powder Products
Based on our firsthand experience, we recommend the Protein Shake Knockout Chocolate. The product contains 40 grams of protein per serving, calcium and vitamin D for strong bones, and essential amino acids. [Related: Muscle Milk Pro Series 40 Review]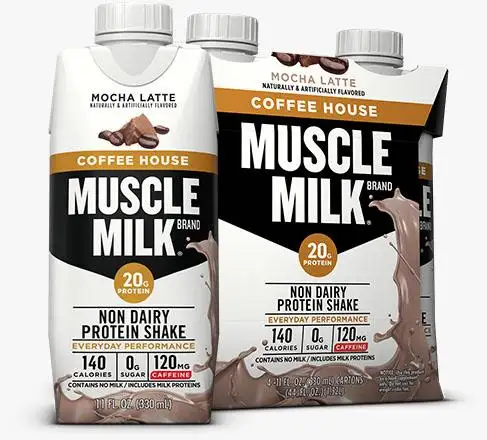 Muscle Milk Non-Dairy Protein Shake is the best pre-workout protein shake for us from the Muscle Milk brand. A 20g of this product contains 0 sugar, 120mg caffeine, and 140 calories.
As per our expertise, it is good for workout recovery and helps you maintain sustained energy throughout your working day.
Best for Muscle Gain: Collegiate
The chocolate flavor of Collegiate Protein Powder is top of our list after trying out it out. It has a 2:1 carbohydrate to protein ratio and 20 vitamins and minerals.
As per our expertise, we suggest you try the Chocolate Peanut Butter flavor of Muscle Milk Protein Bar. One protein bar already contains 20g of multisource, high-quality protein. 
The protein bar is also gluten-free and contains no artificial flavor.
[Related:
Nothing beats the Muscle Milk 100% protein blend with probiotics. It comes in vanilla flavor. Our research indicates that this is designed for anyone who wants to improve their protein intake.
Wrapping Up: Which One Should You Buy?
Whether you are training for bodybuilding events or just want to be physically fit, we suggest you to choose the Muscle Milk flavor that fits your lifestyle as the protein needs of a professional athlete is not the same as someone who just wants to be physically active.
Pick the flavor that contains proteins (in grams) about 50 to 90% of your bodyweight if you are an athlete or active adult.
If you are mildly active, the protein should be 50% of your body weight and 70% of your body weight in grams of protein if you are moderately active.
Currently, our research indicates that the flavor that is most popular among the public is the Muscle Milk Café Latte Flavor.
Safety Information
As a word of caution, though, protein drinks and shakes should not be a substitute for real food. It is best to consult your health care practitioner before using this product, especially if you are considering pregnancy, pregnant, or nursing.
However, if you find yourself not getting an adequate balance of nutrition because of your unique health needs, then these Muscle Milk products can help balance your nutrition intake.
If you like this article, you might want to read our other reviews at ExpertFitness.org.
Nathan Lloyd, MSc
LICENSED PERSONAL TRAINER
I'm a personal trainer, based in Boulder, Colorado.
I service clients physically in the Boulder area, mainly in the ONE Boulder Fitness Gym, but am also available for online consulting and coaching.
If you're interested in my personal coaching programs, please contact me via the contact page.