What comes to your mind when you hear the word "protein"? Perhaps a muscular man lifting weights. But the truth is, women need protein as much as men do because protein plays many important roles in the body, from cells to muscles.
You can get dietary protein from animal products and poultry as well as in some vegetables. Men need about 56 grams of protein daily while women about 46 grams (70 grams if pregnant or breastfeeding). 
For some people, though, achieving this nutritional requirement can be a challenge. That's why protein powders are a great way to make sure that you're consuming the right amount of protein daily.
Introducing Ideallean, an addition to the popular protein powders in the sports nutrition market. 
Whether your goal is to lose weight, build muscle mass, improve sports performance, or for overall wellness, there seems to be an Ideallean flavor for these needs and each flavor has a different nutritional value.
But, does Ideallean really contain high-quality protein? Is it something we would recommend? Has it improved the lives of many women in their fitness journey? Is it something worth buying? 
This in-depth Ideallean Protein Powder Review will answer these questions for you!
TLDR: Ideallean Protein Powder Review
Product Description
IdealLean Protein Powder for Women is formulated to help women lose fat, earn their ideal body, and build lean muscle. The protein content of this product comes from 100% whey isolate, meaning it is very digestible and has a low carbohydrate count. Whey protein is the best protein source for lean muscle growth.
It also contains sunflower lecithin in its ingredients. It works not just as a flavor protector or an antioxidant, but also provides that smooth, creamy texture in protein powder for mixability. The absence of cholesterol and fat moreover helps this protein powder stand out in the market, even when compared to other whey isolates.
How Ideal Lean helps women
Created by IdealFit, the Ideallean protein powder is packed without unhealthy carbs, fats, and only 1g of sugar per serving. And unlike other protein powders or protein shakes, the Ideallean Whey Protein Powder is actually far from bland. There are different tasty flavors for you to choose from. One of our favorites is the Chocolate Brownie.
Aside from the 20g of whey protein isolate per serving, this protein powder also includes two nutrient blends: the Recovery Blend and Fast Loss Blend. Together, they help you recover fast and get lean so you can keep working towards the figure you want.
[You might also like: Ideallean Fat Burner Review]
IdealLean Ingredients
Some of the key ingredients of IdealLean Protein Shake For Women Chocolate Brownie flavor are:
Cocoa processed with alkali – The flavonols present in cocoa have antioxidant effects that reduce cell damage in relation to cardiovascular health. A study has also found that eating dark chocolate could boost athletic performance. 
Calcium carbonate – Some dietary supplements contain calcium carbonate for healthy bones, heart, nervous system, and muscles. This compound is used when the amount of calcium from the diet is not enough.
Chromium Picolinate – It is a form of chromium mineral that is often found in dietary supplements. Its safe form is found in foods and its health benefits include improving blood sugar, reducing hunger or cravings, and losing weight. An 8-week study, for instance, demonstrated that 1,000 μg/day of chromium picolinate reduced food intake and cravings in healthy overweight women.
As for its weight loss benefits, numerous studies found that chromium picolinate supplementation produced weight loss, although small. It was only 2.4 pounds after 12 to 16 weeks. But a separate placebo-controlled trial has a different finding. It showed that supplementation of chromium picolinate, even in combination with nutritional education, has no effect on lean mass and body fat at all.
Folic Acid – This synthetic form of folate acts by helping the body maintain and produce new cells. Red blood cell formation is even dependent upon healthy levels of this vitamin. That is why a folic acid deficiency can cause anemia in both children and adults. 
We also find it interesting that this protein powder contains Vitamin D, which is linked to bone strength, better mood, and improved hormonal health. It's even one of the most recommended nutrients for female athletes.
Ideallean Protein Powders in Different Flavors
Other favors of Ideallean Protein Powder are Chocolate Coconut, Strawberries and Cream, Mint Chocolate, and French Vanilla. Each flavor contains extra ingredients, like acacia gum in Caramel Mocha and roasted peanuts in Chocolate Peanut Butter flavor. 
Pros
Contains 100% whey protein isolate
Decent ingredients
100 calories per serving
Helps support lean muscle mass
A good protein shake option for women who want to lose weight or tone lean muscle
Promotes muscle retention and muscle growth
20g of protein per serving
0g Fat / 1g Sugar / 3g Carbs
Helps increase protein synthesis
Delicious smooth taste
Lots of good online customer reviews, both on Amazon and its official website
Whey protein is Labdoor-quality approved
Cons
Contains sucralose, which others may find too sweet 
Few people don't like its consistency
It has no clear evidence, except customer reviews
Is it worth it?
The IdealLean Protein Shake For Women is delicious and would make you feel full for a long period after you drink it. For being tasty despite having little sugar content, this product is sure worth trying. We also like that it has a winning blend that is specially made for women.
And since Ideallean uses whey protein isolate (an excellent source of high-quality protein), you can guarantee that it is very digestible. It can be absorbed quickly from the gut compared to other types of protein.
Interested? You can purchase it here!
In-Depth Review of the Ideallean Protein Powder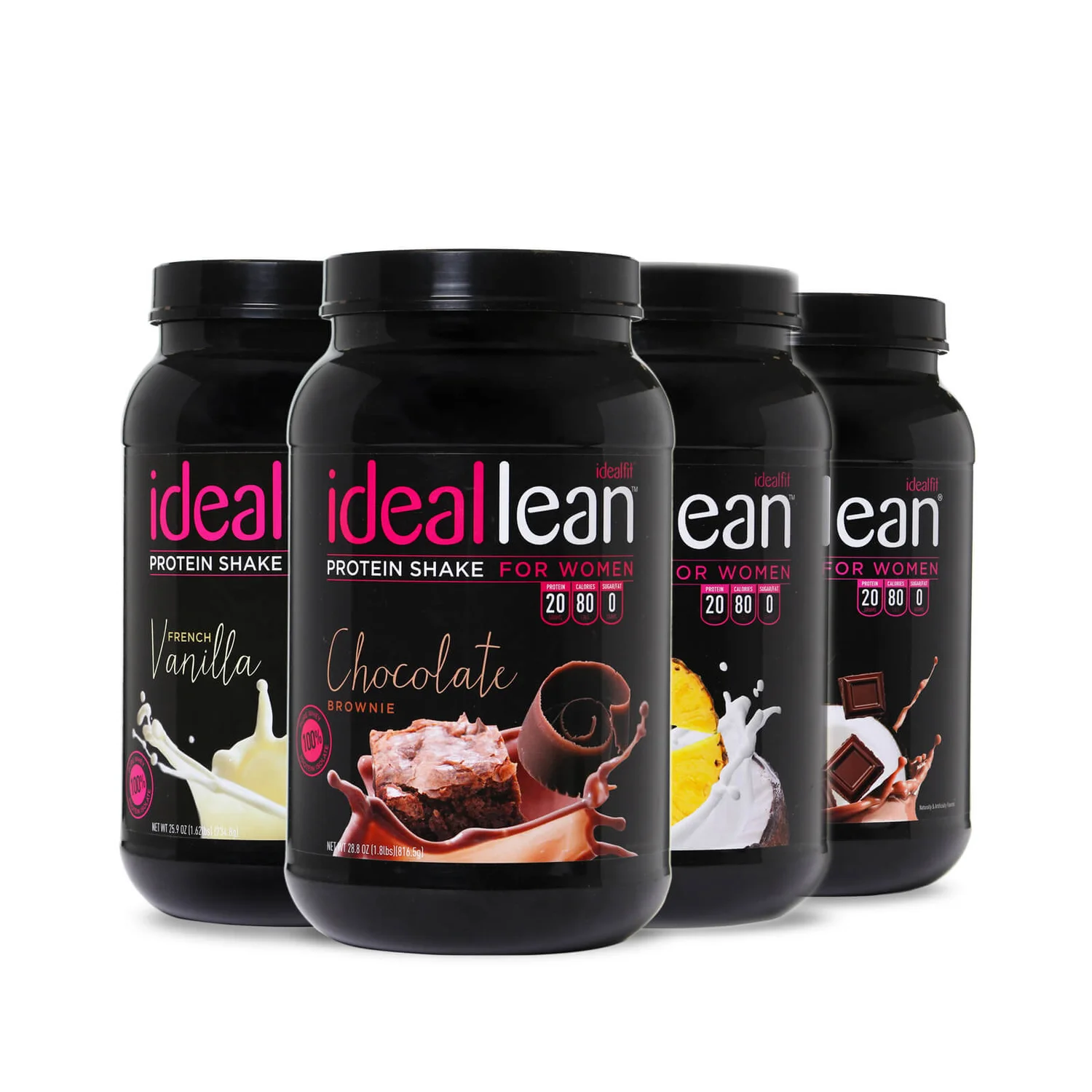 Nutritional Information
Serving Size: 26g (1 level scoop)
Servings Per Container: 30
Amount Per Serving
Calories 100
Calories from fat 0
| | | |
| --- | --- | --- |
| | Amount Per Serving | % Daily Value* |
| Total Fat | 0g | 0% |
| Saturated Fat | 0g | 0% |
| Trans Fat | 0g | |
| Cholesterol | 0mg | 0% |
| Sodium | 45mg | 1% |
| Potassium | 200mg | 4% |
| Total Carbohydrate | 3g | 1% |
| Dietary Fiber | <1g | 2% |
| Sugars | 1g | |
| Protein | 20g | 40% |
| Vitamin A | | 0% |
| Vitamin C | | 0% |
| Calcium | 100mg | 8% |
| Iron | 0.6mg | 4% |
| Vitamin D | 9.3mcg | 45% |
*Percent Daily Value is based on a 2,000 calorie diet. Your daily values may be higher or lower depending on your calorie needs:
| | | | |
| --- | --- | --- | --- |
| | Calories | 2,000 | 2,500 |
| Total Fat | Less Than | 65g | 80g |
| Saturated Fat | Less Than | 25g | 25g |
| Cholesterol | Less Than | 300mg | 300mg |
| Sodium | Less Than | 2,400mg | 2,400mg |
| Total Carbohydrate | | 300g | 375g |
| Dietary Fiber | | 25g | 30g |
Ingredients: Ingredients: Whey Protein Isolate, (Whey Protein Isolate, Sunflower Lecithin), Cocoa Processed with Alkali, Natural & Artificial Flavoring (Natural & Artificial Flavors, Dextrose, Cocoa Powder, Silicon Dioxide, Propylene Glycol), Salt, Sucralose, Calcium Carbonate, Cholecalciferol, Chromium Picolinate, Folic Acid.
Potential IdealLean Side Effects
The Ideal Lean products do not have noticeable side effects, as its manufacturer claims. But be aware some flavors contain soy and milk. One user shared that she experienced an upset stomach after using this protein powder. We suggest you read the ingredients first before taking the product to be aware of potential allergens.
Warranty/ Return Policy
IdealFit allows a return of order within 1 year of delivery for a full refund, but not including the shipping costs. If the return is a result of the company's error (you received a defective or incorrect item), they are willing to pay the return of the shipping cost. For more information, please see IdealFit's Return Policy
IdealLean Women's Protein Shake: Who is it Best for?
The IdealLean Protein Shake is best for women who are looking for a nutrition option for healthy muscles. It can be used every day to build muscle, keep fit, or meet your unique nutritional needs.
The IdealFit Challenge
Not all protein supplements provide motivational advice and challenge from their creators the way IdealFit does. 
So, if you're ready for an effective way to burn fat, IdealFit provides a free 15-day FIT body challenge that comprises a unique carb cycling strategy. 
This weight-loss strategy helps you to lose more fat. You will also be provided with tasty recipes, coaching and support, and what workouts you can do to help you achieve your fitness goals.
What Do People Say About it?
Amazon
IdealLean protein powder gained plenty of positive feedback on Amazon. One customer from the United States wrote, "Used this [IdealLean Protein Shake For Women] years ago to help lose weight. It tasted great then and tastes the same years later. It is a great way to substitute meals or for a dessert. Very low carb. Easy on the stomach. Not chalky. Definitely helps me in my weight loss past and present. I just wish it were cheaper so I could use it long-term. I usually get tired of spending the money after a few months."
However, there were still very few who were slightly disappointed with their purchase. "I chose Ideallean, not so much for the 'lean' but it's packed with protein and I LOVE peanut butter. I didn't see that it was sucralose. My fault….but even if I had seen that – I may have still purchased it. But – it is OVERPOWERINGLY sweet. I don't mind the sucralose taste in some things, though I typically try to avoid it – but beware if you do mind it. And regardless of the type of sweetener – it's just too much."
YouTube
Trainer Lindsey reviewed each Ideallean protein flavor and said, "Each protein serves a different purpose in my life and they all have little space in my heart… They all are whey protein isolate. It's going to be the first and main ingredient of all of them… Chocolate Coconut and Chocolate Brownie [flavors]. They're so awesome."
Another Ideallean Protein Powder review from Sierra CC Michelle: "I was on a liquid diet for about eight months and I lived on protein shakes. My favorite brand is Ideallean. And the reason why I like the Ideallean: 100% their taste and their cost.  The taste is amazing. I have always just mixed them with water. They mix very easily. And second, they're always running some kind of sale or promotion. The nutritional facts vary, depending on the flavor."
Reddit
In one Reddit conversation about protein powders with good macros, one lady shared, "I recently purchased a sample pack of IdealFit protein, and I'm really enjoying it! It is 80 calories for 20 g protein/0 carbs/0 fat. It is super yummy in overnight oats."
Another person, who has not yet tried taking the Ideallean protein shake, wrote, "It sounds good but for the price, I'd rather buy something premade that has 2g of net carbs or so." She was referring to the zero carbs and 20g of protein formulation when she said: "too good to be true."
FAQs About Ideallean Protein Powder
What is Ideallean?
Ideallean is a fitness product line produced by IdealFit Company. Their range of products is designed by women and for women. One of their team members is certified sports nutritionist Lindsey Matthew, who helped formulate the products. 
When should I drink IdealLean protein?
Ideallean protein powder is best used as a pre-and post-workout, although you can take it in other strategic times if you're toning up. Just like the suggested use for other protein powders, you can simply add one scoop of Ideallean with 8oz of water, milk, or juice and mix the powder thoroughly.
Is Ideallean safe for pregnant women?
Women need protein daily, whether pregnant or not. As always, it is best to first listen to your doctor before anyone else if you're planning to make changes to your diet. The typical protein recommendation for pregnant women is to consume at least 70g of protein daily.
Ideallean protein powder is generally safe for pregnant women, especially if you are active and still doing regular exercise even when you're expecting.
What happens if you take whey protein without working out?
Whey protein has an excellent safety profile, meaning most people can just consume it without problems. This is regardless if they are working out or not. 
Even the US National Library of Medicine stated that increased whey protein ingestion is linked with enhanced weight loss and body composition with and without exercise training.
Are some protein powders better than Ideallean?
Short answer, yes. However, it will depend on your dietary requirement, fitness goals, and what the word "better" means. 
But if you're looking for the healthiest protein powder, it should be something that helps you reach your goals without compromising on the nutritional content. 
We recommend you always read the label and keep an eye for artificial sweeteners or added sugars.
To help you pick the best protein powder for you, we break down these common types of protein powders and the kind of women these are best for.
Whey protein powder: Best for women who have an active lifestyle and who lift weights
Vegan or pea protein powder: Best for women who suffer from bloating or are vegans
Casein powder: Best for women who want to lose weight
Final Verdict: Should I Buy It?
The IdealLean Protein Shake For Women Chocolate Brownie is one of the best-tasting protein powders in the market. Plus, its creamy texture leaves such a pleasant sensation in the taste buds that you don't often get in other protein powders/ protein drinks.
Each glass of IdealLean Protein Shake For Women only contains 80 calories so you can take it without worrying that it may disrupt your calorie counting routine. 
Compared to other protein drinks, this product has a solid list of vitamins and minerals too. Plenty of workout supplements focus more on proteins that fail to give enough attention to amino acids, but not this one. 
As for ease of use, this protein shake is super simple. Just take one scoop of protein powder and mix it in 8 ounces of liquid. It blends nicely into a smooth consistency. Some prefer mixing their protein powder with unsweetened almond milk and you may do that too.
But most of all, the reason why we highly recommend this protein powder for women is that when you break down the macros, it has 0 grams of fat and 0 grams of carbohydrates, and 20 grams of protein in one level scoop. These numbers are ideal for weight loss and toning lean muscle.
Disclaimer: Statements and information on this site have not been evaluated by the Food and Drug Administration. 
The Ideal Lean protein powder and protein shake have a good safety profile. However, they are not intended to diagnose, prevent, cure, or treat any disease. 
It is best to consult your physician first if you are pregnant, nursing, or have a medical condition before using this product.
If you like this article, you might want to read our other reviews at ExpertFitness.org.
Nathan Lloyd, MSc
LICENSED PERSONAL TRAINER
I'm a personal trainer, based in Boulder, Colorado.
I service clients physically in the Boulder area, mainly in the ONE Boulder Fitness Gym, but am also available for online consulting and coaching.
If you're interested in my personal coaching programs, please contact me via the contact page.