Ever since the phrases "stay at home," "social distancing," and "shelter in place" took root in our everyday lexicon, we have to find new means to work out without going out or don't involve large crowds.
As such, many discovered the joys of indoor cycling and this led to the surge in elliptical bike combo sales.
While it's a good thing that many people are still finding ways to stay fit indoors, it can also be a little bit frustrating because if you see a good quality elliptical recumbent bike combo, it quickly goes out of stock.
It can also be a challenge to find a cardio dual trainer with so many choices. But don't worry. Here, we give you a list to help you find the Best 2-in-1 Elliptical and Bike Combo you can buy right now!
Top 10 Best Elliptical and Bike Combo Machines
1. Body Rider Elliptical Trainer
Product Description
If you're looking for a budget-friendly elliptical-bike combo, then the Body Rider Elliptical Trainer BRD2000 should be on your list.
Designed to expand your workout potential, this 2-1in-1 elliptical trainer and bike combo machine is a standup bike with a strong frame and black and silver paint finish.
And since it features a dual exercise mode, it saves space in your home gym. The transition of this elliptical recumbent bike combo is also hassle-free. It's as simple as standing or sitting while you adjust the resistance to customize your workout session.
The Body Rider elliptical machine moreover comes with an adjustable cushion for added comfort and safety.
There are four integrated handlebars and the flywheel, which helps simulate the feel of an outdoor bicycle, is also covered with a material meant to resist sweat as you workout.
Focusing on the bike, it has an upright seat and you can simply adjust it horizontally or vertically to accommodate your height. We also like that the saddle of this exercise bike is comfy and its clutches are sturdy.
Its high momentum fan blades provide a cool breeze as your pedal. And last but not the least, the BRD2000 comes with wide pedals so your workouts will be gentle on your back, ankles, hamstrings, and hips.
Pros
Low-cost elliptical-bike combination
Uses a fan-blade flywheel system (works quietly)
Wide pedals
Easy to assemble
Supports up to 250 lbs
Covered by a 1-year warranty
Good deal for its price
Runs smoothly with its high momentum fan blades
Cons
The seat of this upright bike is fairly hard
The machine may be a little small for a male that you have to constantly lean over the front when you use the elliptical
Interested? Click here to buy it!
2. Bowflex Max Trainer M7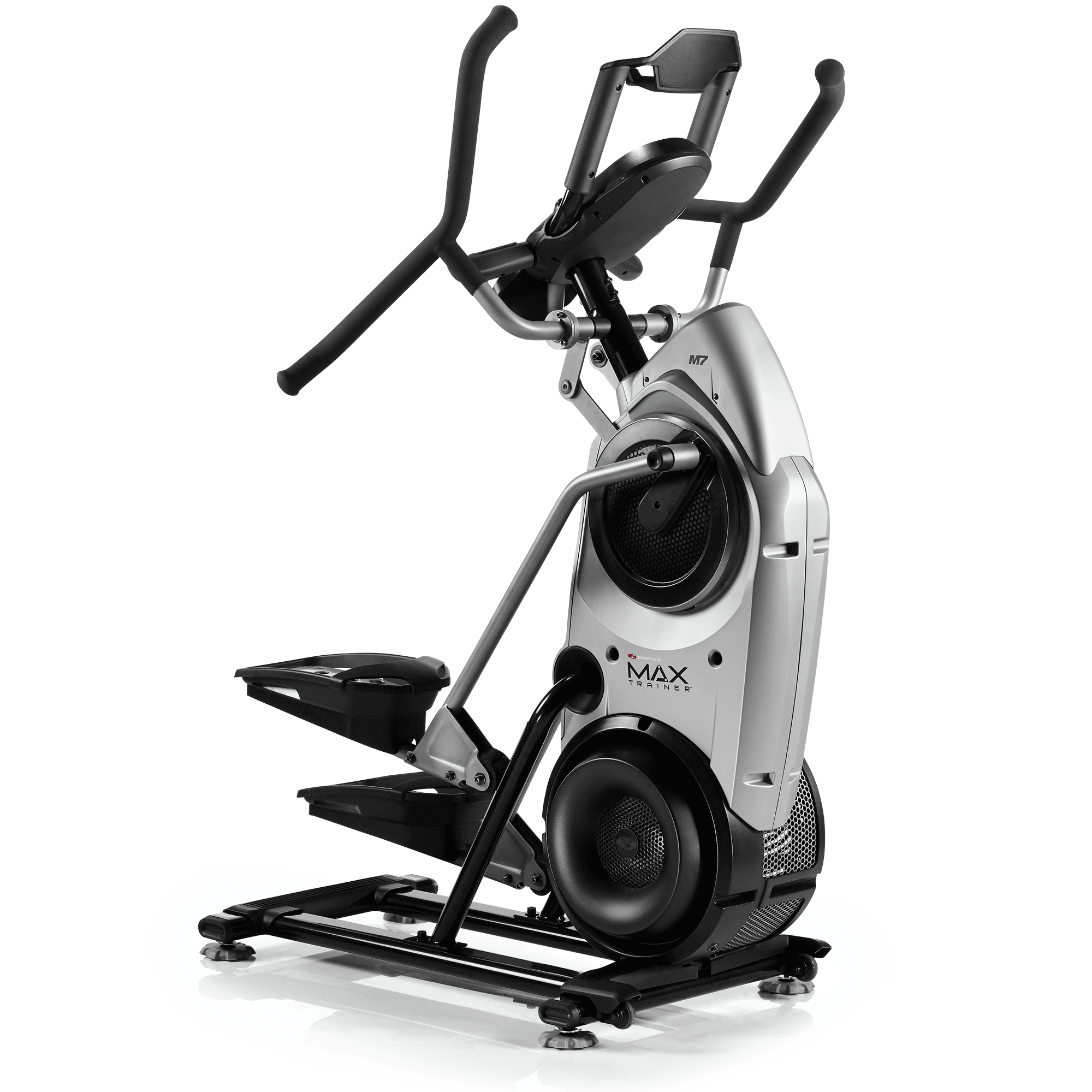 Product Description
The Bowflex Max Trainer M7 is an elliptical recumbent bike combo machine that is compact and packed with several extraordinary features ideal for all, be that a rookie or a pro gym expert.
One of the things we like about this hybrid exercise bike is it allows you to choose your desired intensity level, which also equates to plenty of elliptical training possibilities! All in all, there are 11 designed programs in this elliptical-bike combination machine.
As for its handlebars, it is made of commercial-grade material that allows you to track your pulse rate while you work out. It can also be linked to a Max Trainer App, available in Android and Apple versions.
The free Max Trainer app enables you to set, track, and monitor goals while you stream video content from professional trainers that will help, motivate, and instruct you to be successful. And if you want to extend your workout, you can simply use the Add Time button.
Pros
Compact size
20 resistance levels
Generally well-build
Allows 4 different user profiles
Comes with 11 designed programs for an elliptical-bike workout routine
Inclusive of daily subscription that is valid for 8 weeks
This elliptical cross trainer comes with an Add Time feature
Cons
Assembly is not as straightforward as other elliptical-bike combos (only the base is pre-assembled)
The leg arm that attaches to the wheel knocks continually during a workout routine
There's a squeak under the foot platforms, so not as smooth operation compared to other exercise bikes
Like what you see? Buy this product here today!
3. ProForm Hybrid Trainer: Elliptical + Recumbent Bike
Product Description
The ProForm Hybrid elliptical machine has a large LCD window display, where you can quickly view your workout stats (like calories burned, time, watts, and RPM).
It can accommodate a variety of users and it's the best elliptical bike combo you can find for having 16 different levels of resistance.
As you purchase this hybrid elliptical trainer, you'll even have a 30-day iFit trial membership that offers you interactive personalized health and fitness coaching right in your home.
To ensure a smooth workout, this machine also uses Inertia-Enhanced Flywheel and SMR Silent Magnetic Resistance.
Compared to other elliptical bike combo machines, this exercise bike comes with oversized pedals to ensure low-impact cardio.
Moreover, we like that it has a 350-pound user capacity. For the bike, it has comfortable side grips and a seat that has back pads to provide your back with proper support.
Pros
With HRM and pulse monitor
Upright elliptical and recumbent bike in one machine
Inexpensive price
16 workout programs available
Great for physiotherapy
Wheels for easy moving
Comfortable seat with back and arm support
Oversized adjustable pedals
Silent Magnetic Resistance
Cons
The heart rate sensors are fixed on the handlebars
Online coaching service requires monthly payment after one month of trial
The manual does not include the initial start-up instructions for this machine
Don't miss out! Buy this product here before it's gone!
4. Body Champ 2-in-1 Upright Exercise Bike and Elliptical Trainer
Product Description
The Body Champ BRM3671 elliptical machine from Body Flex offers you two functions at the price of one. It features a magnetic resistance system for a smooth and quiet ride with zero impact on your knees.
Just like other elliptical bike combo machines, this upright bike needs assembling too. But don't worry. It has an instruction manual for you to follow and once assembled, it only measures 40 x 20 x 64 inches.
Such is an ideal size if you want to save space in your home gym and would not want a machine that can be both expensive and requires a dedicated room to use it.
For optimum workout options, it has an adjustable seat and ergonomic handlebars. This elliptical stationary bike is also very simple to use and can be a great solution if you prefer workout flexibility because it comes with 12 present exercises for you to choose from!
However, if you prefer a 3-in-1 workout machine, we recommend you to check out the Body Flex Trio Trainer designed by the same fitness brand that created the Body Champ BRM3671 upright bike.
Pros
Solid steel structure
A unique design feature that you won't see in other elliptical bike combos
motor-driven magnetic resistance
2-in-1 Elliptical Motion Technology
Adjustable 2-way seat
This elliptical combo comes with a programmable LCD console
Customizable workout programs available
Cons
Frame warranty for this upright bike is too short
No back support
Ready to buy it? Check out this link today!
5. Goplus 2-in-1 Elliptical Fan Bike Dual Cross Trainer
Product Description
The Goplus 2-in-1 Elliptical Exercise Bike Combo is a compact, lightweight, and easy-to-transport gym machine.
The handle height, resistance, and seat height are all adjustable so it can accommodate users of different fitness levels and sizes.
With a turn of a knob, you can quickly adjust the resistance of this hybrid elliptical exercise bike to an intensity according to your fitness needs and likes.
Plus, it comes with a heart rate sensor and an LCD display. With a grip, this hybrid elliptical machine automatically tracks your heart rate to ensure that you stay focused while you exercise.
This elliptical machine also has a 36 x 27 x 57 inches dimension, which means it won't take up too much space in your home gym. It has a 220 pounds weight capacity, yet is lightweight enough that you can move it around in your home.
Pros
Adjustable seat height and resistance
Comes with HRM/Pulse Monitor
Easy to assemble
Easy to move around and store
Compact
Dynamic riding to keep fit and get better shape
Cons
The durability of this hybrid elliptical trainer can be an issue
Few users said the machine feels a little wobbly during intense use
Convinced? You can buy the product here!
6. Body Power 3-in-1 Exercise Machine – BRT5088
Product Description
The Body Power 3-in1 Recumbent-Elliptical combo is an ideal solution to replacing multiple fitness equipment. It has 3 types of handlebar options and comes with a heart-rate monitor system.
The simple electronic computer console of this hybrid indoor bike allows you to track calories burned, distance covered, speed, and time. We also like that it has transport wheels for easy storage.
As one of the best elliptical-bike combos in the market today, the BRT5088 has a unique design that allows you to use this equipment as a recumbent bike, an upright bike, or an elliptical.
To use this trainer as an elliptical or a stand-up bike, simply switch it into the exercise bike setting.
For the mechanical aspect of this hybrid elliptical machine, it seems to outperform its price. It feels stable and sturdy. Last but not the least, this at-home exercise equipment features a magnetic resistance system that allows a silent ride.
Overall, you will be happier with this 3-in-1 Exercise Machine than an elliptical combo because you can just sit or stand while working out on this equipment without changing anything. This alone is amazingly convenient.
Pros
With a built-in hand-grip heart-rate monitor system
Intuitive functions
Easy to use the console
Has transport wheels
Includes 28-day meal plan by Leisa Hart, a fitness icon
Can be adjusted magnetically that makes workout challenge more intense
Smooth and sturdy
Cons
Basic timer, pulse, and distance tracker compared to other exercise bikes (although others would prefer a basic feature for easy read)
The friction belt may not last for a long period
If you're a petite person, the seat may not go low enough
If you want to try it out, here's where you can buy it!
7. Plasma Fit Elliptical 2-in-1 Cross Trainer
Product Description
The Plasma Fit Elliptical 2 in 1 Cross Trainer is another good elliptical bike you can use to start your fitness journey.
It is a compact and highly efficient exercise machine that can fit even in small spaces or in apartments.
To accommodate any workout level, simply change the variable magnetic resistance from beginner to advanced intensities.
This is the best elliptical bike combo you can find in the market for progressive workouts and for home gyms with more than one user.
It likewise comes with a full-form seat. Its ergonomic nature enables you to do one of the most fluid exercises in an elliptical trainer.
And what sets it apart from other elliptical bikes is that it can work both backward and forward movement, helping you burn calories while preventing repetitive stress injury.
This dual trainer has a weight capacity of 250 pounds and has an LCD mounting tech. With this feature, you can easily monitor your fitness journey at your fingertips.
We also like that this low-impact cardio machine has built-in pulse rate sensors right in the handrails. So, as you do a full-body workout, your fitness stats are illuminated on the LCD screen.
Pros
Sturdy construction
A good starter system
Space-saving design
Easy to read LCD mounting technology
changeable foot pedals
Ideal for small spaces
Adjustable comfort and resistance levels
Reasonably priced
Can be used in an elliptical mode or as a stationary bike
Cons
Ony 11″ foot stride length
The incline of the steps are deeper than most elliptical combos
Excited to try this product? Shop Now!
8. Sunny Health & Fitness Advanced Programmed Elliptical Machine Trainer
Product Description
Power up your training routines with Sunny Health & Fitness Advanced Programmed Elliptical Machine Trainer.
This compact machine is equipped with a performance monitor that displays and tracks your distance, calories burned, speed, time, watt generations, rotations per minute, as well as the magnetic resistance level used.
As for the stride length of this elliptical trainer-recumbent bike, it's 15.5 inches, which ensures an effective and comfortable session.
It may not have the same firm grip surface as ProForm but it does have full motion handlebars. So, with this gym equipment, you can engage your traps, biceps, and pecs, while you also activate your hamstrings, glutes, and thighs.
This best elliptical bike combo moreover has floor stabilizers to prevent swaying, rocking, and tipping. This is one of the features that sets this high-tech machine from other exercise machines or ellipticals.
Another stand-out feature is that it's a motorized elliptical, which means it can work manually even when not plugged in and the resistance will still be the same as the last setting used.
Pros
Comes with a device holder and a separate water bottle holder
16 Adjustable resistance levels
15.5 inches stride length
With non-slip foot pdela
Has transportation wheels
With floor stabilizers
Works manually when not plugged in; resistance stays the same as the last setting used
With water bottle holder and device holder
Full motion handlebars
With pulse sensors
Con/s
A little noisy when paddling
Don't miss out! Buy this product here before it's gone!
9. Pooboo Stationary Exercise Bike Foldable 3 in 1 Indoor Cycling Bike
Product Description
The Pooboo Stationary Exercise Bike is a foldable indoor cycling bike that comes with two arm resistance and a twister plate.
With these add-ons, you can slim your waist and train your arm muscles although this high-tech machine does allow full-body training.
Apart from its foldable design, what we like about this elliptical trainer-recumbent bike (gym equipment) is that it has a stable x-shape frame when you use it.
This hybrid trainer is also very stable and can be stored or moved easily from one place to another at home with its transportation wheels.
It has hand pulse monitors to show data of your distance, time, pulse, and speed right from the LCD monitor. As for its cushion, we find it comfortable and even ergonomically designed. There's a backrest to support your body during workouts.
Pros
Assembly is easy
8 levels of magnetic resistance
Can be used as an exercise bike (for upright cycling), pull rope, and twist plate
Foldable
Comes with transportation wheels
You can track your distance, speed, and rate great via the hand pulse monitors
Helps stimulate blood circulation
With arm resistance bands
Quiet and smooth flywheel, ideal for home use
Con/s
Some users are not that comfortable with the height of this stationary bike
Like what you see? Buy this product here today!
10. Teeter FreeStep Recumbent Cross Trainer and Elliptical
Product Description
If you want a dual trainer with fixed and moving handlebars, then choose this Teeter FreeStep LT1 Recumbent and Elliptical Trainer. It's as good as Teeter's LT3 model, but with few features changed.
The Teeter FreeStep Recumbent Dual Trainer has an adjustable recline of seat and height combined with adjustable handles, making it ideal for any user. Its magnetic resistance also allows you to choose the intensity of your training as you lose weight, burn calories, or stay healthy.
This cardio dual trainer is made using a commercial-grade material, making it last longer. Its LCD displays the time, calories, speed, and distance covered during your workout. With a 300-pound user weight capacity, this machine is truly ideal for people of all fitness levels.
Pros
Smart design
300 pounds maximum user weight capacity
Zero impact exercise (best for patients diagnosed with MS, Parkinson's, or Arthritis)
Helps you build muscle mass
Allows total body workout
Commercial-grade material and engineering
Battery-powered digital console
Fluid stride; whisper-quiet
Nice customer service
With device holder and separate water bottle holder
Cons
Some users find the bottom of the upright tubes a bit too small; requires over-tightening of the attachment screws
Seat and handles may not be that easy to adjust compared to other elliptical machines
Interested? Order this product here today!
What to Look for When Buying the Best Elliptical-Bike Combo Machine
Foot Pedals/ Stride Length
One key consideration when buying an elliptical trainer-recumbent bike is the stride length of the pair of foot pedals. Also, determine the maximum distance that each pedal can move backward and forward.
For tall people, a limited stride length in their elliptical gym equipment can be a deal-breaker because they will be forced to do abbreviated motions. A cardio dual trainer with a stride length of 20 or more inches is ideal as it keeps most people comfortable.
Adjustable Resistance
When buying the best elliptical bike combo, pick one that has a broad range of resistance. Not all ellipticals/ exercise machines have enough resistance that allows you to perform from easy to high-intensity exercises.
Style of Your Choice
Elliptical machines often come in different styles, based on where the flywheel is located. So, before buying that recumbent elliptical cross trainer, determine whether you prefer a front-drive, a center drive, or a rear-drive.
The Bottom Line: Which One Should You Buy?
All the elliptical machines in this list offer great value for their price and they are our favorites of all other exercise machines in the ellipticals category.
However, our top pick and one we consider as the best elliptical bike combo in terms of its electronic features, smooth operation, motions, and levels of resistance, then it would be the Teeter FreeStep Recumbent Cross Trainer and Elliptical.
This elliptical trainer-recumbent bike is low-impact gym equipment. It has a normal stepping motion that ensures that your ankles, hips, back, and elbows take it easy as you workout. We also like that it has loads of flexibility to target your chest, back, biceps, and triceps!
If you like this article, you might want to read our other reviews at ExpertFitness.org.
Nathan Lloyd, MSc
LICENSED PERSONAL TRAINER
I'm a personal trainer, based in Boulder, Colorado.
I service clients physically in the Boulder area, mainly in the ONE Boulder Fitness Gym, but am also available for online consulting and coaching.
If you're interested in my personal coaching programs, please contact me via the contact page.